Excl: Online healthcare startup Credihealth in talks to raise up to $10M in funding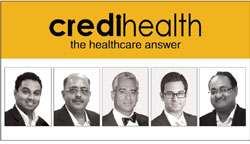 Gurgaon-based Credi Health Pvt Ltd, an online healthcare services provider is in talks to raise up to $10 million in funding, a top executive of the company informed Techcircle.in.
The funds will be invested in scaling up its operations as well as for expansion. The firm will open a Mumbai office in the next couple of months, post which it plans to expand pan-India. It is also looking at global expansion to Singapore and other Asian countries.
"We are in talks with two-three PE funds that are open to investing in early stage and tier 1 funding," said Ravi Virmani, co-founder, Credihealth.com.

Without naming them, he mentioned that two of them are American funds that have offices in the country and have invested in Indian companies before. The third one is a specialist American healthcare fund that hasn't done any investments in India directly till date.
Started in 2013 by Virmani, Gaurav Gaggar, Saurabh Uboweja and Piush Kumar, Credihealth.com provides its clients (domestic and international patients) with information on Indian healthcare providers that is credible, reliable and transparent. The company aims to solve the patient's problem of looking for the right doctor or diagnostic centre, besides being an additional sales channel for hospitals.
Virmani is the founding MD of Hewitt Associates India and former COO of Max Healthcare. Gaggar is a CA & an I-banker, and had earlier co-founded two e-gaming ventures. An alumnus of IIM Calcutta, Uboweja has been running Brands of Desire, a brand consulting and design firm that consult startups, mid-size and large size companies. Kumar runs an investment firm, funding startups in the digital technology space. Gaggar, Uboweja and Kumar are part-time directors of the company.

The patient follows up with the doctor are also fixed by Credihealth, and they (the patients) and can also seek second opinions from doctors at any of the registered hospitals. As of now, Credihealth has contracted over 300 hospitals, diagnostic centers and standalone centers.
Over the last six months, the portal has had over 1.5 lakh visitors, and has helped more than 3,000 patients. It is currently targeting Rs 10 crore of additional revenue for its hospital partners. The team size is around 25 people.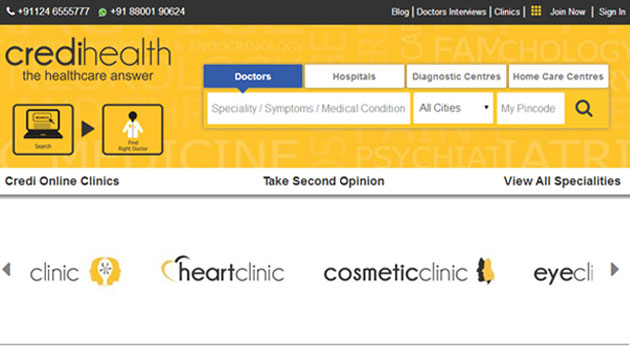 USP & revenue generation

According to the company, its USP is its 'virtual clinics' that are the first of their kind in this space. The clinics provide end-to-end information about complicated medical conditions in patient friendly language, and also offer curated videos of patients who have been through similar health conditions and treatments. Interviews with renowned medical specialists giving insights on different treatment options are also being provided
Credihealth also organises live chats among potential patients and specialist doctors, in order to pacify patients who are about to undergo serious treatment. The company is also building customised offline solutions for schools, colleges and corporate, wherein their staff and other stakeholders can benefit from its services.
While the company is yet to make money, for revenues, it will charge a subscription fee from standalone centres like a hair transplant centre or a dental clinic that registers with Credihealth.

Online healthcare space in India
Recently, India and US-based Lybrate Inc., the company behindLybrate.com, an online platform for patients to book appointments with doctors, raised $1.23 million in funding, the company said in a filing with the US Security and Exchange Commission. The names of the investors are unavailable. Earlier this month, Delhi-based HelpingDoc.com, an online platform that lists medical professionals and enables patients to book appointments, raised over $1.5 million in its Series A round of funding from Senior Marketing System (SMS), a provider of health-related information services for professions and public in Malaysia.
Ebix Inc, an international supplier of on-demand software and e-commerce services to the insurance, finance and healthcare industries, had acquired Bangalore-based Unified Health Solution Pvt Ltd, the company behind HealthcareMagic, a medical advisory service with an online network of approximately 15,000 general physicians and surgeons in a $18.5 million cash-cum-earn out deal.

India and Singapore-based online healthcare services provider OurHealthMate, raised $440,000 (Rs 2.7 crore) in seed funding led by Bimal Shah, former CFO of Nomad Digital, a global provider of wireless solutions to the transportation sector. During the same time, Bangalore-based Commerzpoint Networks Pvt Ltd, the company behind the online healthcare marketplace Medypal.com, raised $400,000 in funding from Unitus Seed Fund (USF), a seed-stage impact venture investment firm.
Other startups in the space include DocTree, DocSuggest, eVaidya and Klinify.
---