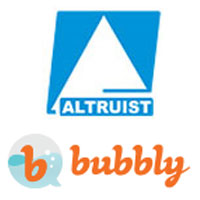 Chandigarh-based mobile VAS company Altruist Group has acquired Singapore's voice-based social media startup Bubbly for an undisclosed amount, according to a Tech in Asia report citing Dheeraj Aggarwal, co-founder of Altruist. As part of the deal, Bubbly will continue as minority shareholders in the combined entity.
Employees from both companies will also come together, with most of them moving to India or Indonesia.
"With more than 1,000 celebrities active on its platform across Asia, India and the Gulf, Bubbly has the right ingredients to fuel exponential growth," said Dheeraj.
The deal would add Bubbly's 40 million users across Asia and the Middle East, as well as another 140 million BubbleTalk users across India and Asia, to Altruist's portfolio of voice-based services. The app would also complement and benefit from Altruist's 80 million users strong European and African voice platform businesses.
Altruist Group was formed in 2005 by brothers Dheeraj and Anuj Aggarwal. It is involved in areas like mobile social networking, mobile advertising, rich media content and value-added services for telecom operators and brands. The firm has a presence in Southeast Asia, Middle East, Africa, Europe, North Africa and the US.
Altruist competes with various VAS companies in the country such as One97 Communications, Affle, ACL Wireless, IMI Mobile, Indiatimes Mobile, ValueFirst Messaging, Comviva, OnMobile and Spice Digital, among others.
Inorganic growth strategy
The company has had a fairly aggressive inorganic strategy, with Bubbly being its fifth acquisition in the last nine years. Back in 2012, Altruist Group had acquired Sweden's Teligent Telecom in an all cash transaction to set up a launch pad into developed markets like Europe and the US.
In 2009, the company had acquired Mumbai-based Mobile2Win in a share-swap transaction. This was followed in 2011 with the acquisition of web and mobile technology firm RelayStrategy LLC. Altruist also acquired Delhi's Mobisoft Telesolutions, which runs the website Phoneytunes.com, offering mobile wallpapers and ring tones, in 2011. It also invested seed capital in Mumbai-based mobile gaming startup called Vegam, for a minority stake.
---