HomeShop18.com integrates Paytm's wallet as a payment option on the site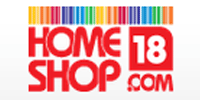 The television shopping and e-commerce firm HomeShop18 has partnered with Paytm, the digital goods and services marketplace owned by Noida-headquartered One97 Communications Ltd, for its wallet feature. This is the first ever integration of Paytm, which offers a one touch payment mode, with a third party e-tailer.
In effect, Homeshop18 competes with Paytm, which had unveiled its own m-commerce marketplace with more than 1 lakh products offered across men, women, kids fashion and home furnishing categories. Paytm, which also provides mobile and DTH recharge options, launched a new version of the app that provides an over-the-counter human shopping experience using Plustxt messenger, which it had acquired last year. The app allows consumers to bargain with vendors that are selling their products through the m-com platform.
"Our partnership with Paytm is to extend customer convenience. Through Paytm wallet, we hope to provide customers across the country with a payment option that is best suited for them," said Sundeep Malhotra, founder and CEO, HomeShop18.
"The first ever integration of Paytm with a digital commerce player, for its wallet, will ensure that customers have a convenient shopping experience," added Vijay Shekhar Sharma, chairman and managing director, Paytm.
HomeShop18 claims a combined reach of over 250 million consumers, coming through its integrated television, internet and mobile device channels. It claims 8.9 million consumers have placed orders with it since its launch. The company recorded 290,000 downloads of its iOS and Android apps as of December 2013, and its delivery footprint included more than 3,000 towns with over 18.9 million orders placed.
From a category standpoint, lifestyle products, which includes apparel, jewellery, health & beauty, office stationery and gifts & flowers, seems to be doing better for the company. As per the data for the first half of FY14, the company derived around 34 per cent of its sales from the lifestyle category against 30 per cent in FY13.
HomeShop18 has filed its prospectus to raise a total of $75 million through a listing on the New York Stock Exchange (NYSE) including offer for sale by some shareholders such as its CEO Malhotra and parent Network18, as per a SEC disclosure. The company is part of diversified media house Network18 and is backed by PE firm SAIF Partners and funds managed by OCP Asia. It also counts South Korea's GS Home Shopping as a strategic investor.
Comment(s)