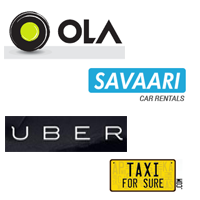 Online cab booking service providers have been one of the darlings of venture capital firms attracting oodles of funding in the last year or so. While on the one hand they have been slowly building an organised face to the highly fragmented market for taxis in the country, the rush of cash among the peer group and the race to break out of the pack has now led the top bracket players to get into a price war.
This is similar to what has happened to the horizontal e-commerce sector where the emergence of the big boys with sacks of cash has led to a shake up in the industry with several players, including those with VC backing who got left behind, pulling the plug to their operations.
The top firms have been creating differentiated service planks both at premium and economy end as against a flat basic model of the yesteryears. But now they have pushed down the prices on both ends in the fight to get more customers to use their services.
At the top end, the Uber has cut the price of its staple Uber Black service in Delhi with a 15 km journey costing around Rs 345 as against Rs 465 earlier (note these excludes the additional cost from the time taken to reach the destination for which Uber charges extra and remains unchanged at Rs 2/minute).
This makes it cheaper than Ola Prime, the premium sedan offered by Ola Cabs (which also charges an additional Rs 2/minute, on top of this), which would cost Rs 400 for the same journey.
Ola's basic sedan ride is marginally cheaper than traditional players such as Meru. For the ride mentioned above its sedan would cost Rs 326 while Meru would charge Rs 345.
However, the differentiator is from its economy service through hatchbacks where it has slashed its prices to Rs 10/km, roughly what other general cabs charge in the capital city.
What's more Uber is also expanding its low fare service UberX in other cities which would further put pressure on local operators.
Others like TaxiForSure has also followed suit and cut the fares on booking through its app.
Industry experts say the discounts and cut throat pricing is sinking firms deeper into losses. However, with money raised from VC firms, the operators are currently looking to garner deeper market presence. Those within the industry say this price war will also force more local operators to join the network of one of these booking platforms.
Varun Mundkur of Uber India refused to comment on the losses made by the firm on these discounts but confirmed that these initiatives have helped them generate tremendous demand. The San Francisco-based company is present in 10 cities in India making the country its largest market outside the US. Ola Cabs has presence in 12 cities and TaxiForSure is present in 10 cities.
Ola Cabs had earlier increased its fleet in Bangalore to nearly 4,000 cars and reduced the number of dry or unpaid runs made by drivers. "Economies of scale and operational efficiencies have ensured that on one end, more customers are able to get a cab at reduced fares and on the other end, drivers are able to do more paid trips every day," said a spokesperson of the company but refused to comment on whether the firm is making any money per trip.
Aprameya Radhakrishna, co-founder of TaxiForSure, which has cut fares for users who are booking through app, told Mint, "If the booking comes through our call centre, on an average we have to incur a cost of Rs 30 per transaction, considering into account the rental costs and salaries of the staff. So giving the customer discount for using the app or our website in the short term will eventually be good for us as we would be spending less on our call centre later."
Investors who have backed the ventures are not too perturbed by the price war and its impact on the visibility for generating profits.
Pradeep Tagare, director of Intel Capital, which has backed Savaari Car Rental, said, "The slash in pricing is a combination of more efficiency of these players and quest to acquire more customers. The entire industry is in a build out phase where VC-backed players are focused on expanding the market and gaining a maximum share; none of which are presently profitable. This is a short term strategy to create customer base and wider brand recall. However, we will soon see a consolidation in the market with only three leading players."
Indeed VC firms have pumped in over $100 million in Ola Cabs, TaxiForSure and Savaari alone since mid-2013. Add to it the huge $1.2 billion round raised by Uber in June this year, at least part of which is coming into India, the top players have the cash to support discounts to consolidate the market.
Moreover, the scope of expansion is huge as the industry consolidates and the biggest of these platforms operate in only a dozen odd cities at present.
The price war by the larger firms could affect the regular taxis, which are essentially locally operated cabs.
But ventures like BookMyCab, which started as an aggregator platform for the regular black & yellow cabs and cool cabs in Mumbai, and has now expanded into Kolkata and Delhi NCR, feels there are some differentiators for traditional cabs.
Sunil Goyal, founder & CEO of early stage VC fund YourNest, which has invested in BookMyCab.com, said, "The online car hire service works on the ability of driver turning up on time. We have been extremely consistent. Though we haven't yet slashed prices, most of our cabs work on CNG which can help us become more competitive. While the segment is presently in the build out stage, we will surely be one of the leaders in consolidating the market."
(Edited by Joby Puthuparampil Johnson)
---