SBI partners Ezetap to launch ATM-cum-PoS terminal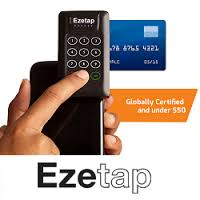 India's largest bank, SBI, has partnered with Bangalore-based mobile payments service provider Ezetap Mobile Solutions Pvt Ltd to launch an ATM-cum-PoS (Point of Sale) terminal for kirana stores, which allows consumers to make payments through their bank accounts like any other debit card payment and also take out money.
The novelty factor in the solution is that the PoS solution allows consumers to encash up to Rs 1,000 at a time (the maximum allowed by RBI for such transactions) which is paid by the store owner from his cash holding. The money gets deducted from the consumer's bank account and gets deposited in the current account of the merchant.
The solution is available at Rs 499 (around $8) apiece as a non-refundable deposit, with a monthly fee of Rs 150 and a commission of Rs 5 per cash-back transaction for the merchant. Such kirana store owners with an Android or Windows device with internet connection can open a zero balance current account with SBI and start using the product.
"This is a completely new service and it is very similar to a normal ATM," Ezetap co-founder Abhijit Bose told Techcircle.in. "We already have bagged thousands of customers for the new product and it is available across the country," he added.
According to Sanjay Swamy, another co-founder of Ezetap, the product is a better alternative for shopkeepers to deposit their cash safely. "Today, shopkeepers hoard the money and eventually take it to a bank branch for depositing it into their account. But with the chhota (small) ATM concept there is no longer a need for that. Consumers can just go to their neighbourhood shop and purchase groceries and 'purchase' some cash. Or as you exit your taxi cab, you could pay with your debit card and also withdraw cash," he said in a blog post (http://theswamy.tumblr.com/).
In Swamy's view, when people know they can walk to the neighbourhood store and withdraw cash, more people will be comfortable keeping cash in the bank, and over time realise they could just as easily shop and pay directly from their bank account, whether with a debit card or their mobile phone or anything else.
Swamy says that access to cash is seen as a key requirement of banking. Banks are scaling their ATM networks as fast as they can, but the size and scope of the problem means the rate of growth is always behind the demand. Additionally, setting up ATMs is extremely expensive, and banks also need to circulate the money and securely transport it to the machine. This adds a lot of security and operational costs to the banking ecosystem, he notes.
Ezetap was founded by Bose, Swamy and Bhaktha Keshavachar. Earlier this year, it had acquired Clinknow, a loyalty platform that lets merchants create and push real time mobile offers to their customers.
In June, the company had entered into a partnership with SBI to deploy five lakh mobile PoS devices for merchants across the country in the next five years. It also works in collaboration with companies like Flipkart, Bajaj Allianz, BookMyShow and Shoppers Stop.
Comment(s)