How Info Edge plans to invest $125M to boost 99acres.com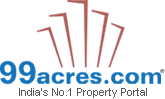 A month after raising Rs 750 crore ($125 million) through a QIP for investment in real estate portal 99acres.com, Info Edge has now revealed how it plans to invest the funds in hiring talent, product, services and building the brand. Here's a sneak peak into its plan:
Team
The firm recently expanded the senior management team in 99acres with the addition of two senior leaders last month in the areas of operations, search, analytics and new homes. In addition, its product development team now counts 125 people in engineering, design, product, analytics and quality assurance, up from 50 a year ago and is looking to add more people going forward. It also has 600 sales team in over 20 cities and will continue to expand in the coming months.
Inventory & operations
It has 13,000 new projects and 23,000 ready to move in societies on projects platform and is targeting adding another 15,000 over the next few months.
The firm is looking to grow its listings with a special focus on owner listings. It currently has a total of over 5,50,000 active listings, all of which have been posted in the last two months. Of these over 1,20,000 are owner listings.
The firm claims it has over 7,000 customers who use its premium offerings. It has come out with lead distribution system in the market this month.
It rolled out verified listing services in Chennai, Hyderabad, Kolkata and Pune in the last three months, taking the overall coverage of verified listings to seven cities and plans to add more cities in the coming months.
The firm has set up a call centre operation to verify leads on the site which will also provide interesting insights into the needs of consumers, improve product offering and get feedback; a response manager for dealers and builders.
Platform, UX improvement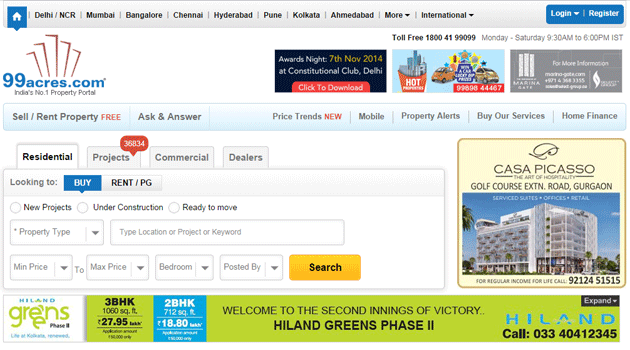 UX revamp for the site is being planned over the next few months to make the site less cluttered, modern and visually appealing, improve the overall navigation experience for consumers and to create higher quality advertising inventory for advertisers. It gets about 29 per cent of overall traffic from mobile devices (20 per cent from the mobile site and 9 per cent from 99acres app) and a similar design revamp is planned for mobile apps as well.
It is investing behind customising the experience for different use cases (like resale or rental). It will also invest in product features that enable research-backed decisions. It is also unveiling map search next month.
Besides, the firm has acquired a design studio that had developed proprietary technology for
3D floor plans and walkthroughs. With this, 30 new projects on the site including Cosmos Jewels, Avalon Royal Park etc are enabled with 3D floor plans, site plans and apartment selector and 7,000 projects have high quality videos or photos. The firm plans to expand this too.
The price trends section is extended to new projects and rentals and introduced a page on the builder's track record. It will improve user engagement by showing similar properties and projects and other search recommendations.
Marketing
It plans to increase the decibel levels in marketing and TV advertising after having already started doing so. Info Edge has reported net profit of Rs 33.2 crore for the quarter ended September 30, 2014, the same as the corresponding period last year even as net revenues climbed 19.4 per cent to Rs 147.5 crore. This was partly due to sharp rise in ad spends last quarter.
Comment(s)