Housing adds online rental agreements service to its portal
Real-estate listing portal Housing.com has added a new feature to it platform that enables users to create and customise their rental agreements online. Users can customise their agreements based on rent, property area, security deposit and facilities available, and also review the clauses in the background.
Housing will pay the stamp duty on behalf of the tenants and landlords. A hard copy of the e-stamped rental agreement will be delivered at the doorsteps of the user in two days for a fee of Rs 75. It also has an e-stamp calculator.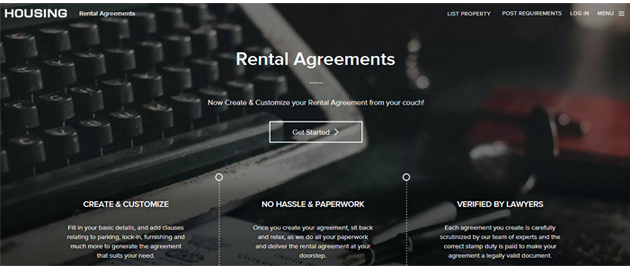 The service is currently available only in Bangalore, and will be expanded to various cities in the west and south zones over the next two quarters.
"Real estate transactions are full of paperwork and confusing legal documents. Also, people spend four hours on average at the registration office trying to get their rental agreement paperwork done. From a national perspective it is a 30,000 man days of productivity gone down the drain annually," said Advitiya Sharma, co-founder of Housing.
Lately, the firm has been expanding its services to new segments. Last month, it launched loan application feature to its platform.
Housing was set up in 2012 by a dozen IITians, of whom three have already quit the firm. Run by Mumbai-based Locon Solutions Pvt Ltd, Housing enables real estate brokers to upload unlimited listings on the site while users can search properties for free.
The firm operates in more 25 cities including Ahmedabad, Indore, Jaipur, Thiruvananthapuram, Visakhapatnam, Nashik, Vadodara, Mangalore, Surat, Mohali and Vijayawada. It claims to have mapped over 80,000 houses in Mumbai, and over 50,000 houses in Bangalore to date.
Early this year, Housing raised $19 million in funding from Helion Venture Partners, Nexus Venture Partners and Qualcomm Ventures. In June last year, the startup had raised $2.5 million in pre-Series A funding from Nexus Venture. Prior to that, it attracted two rounds of angel funding.
Housing is in the midst of raising another round of funding.
Comment(s)