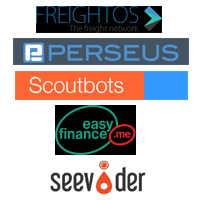 InvestHK, the investment arm of Hong Kong government, has invested $640,000 (about Rs 4 crore) each in five startups, many of whom are expanding their businesses to the Indian market. The investment is in the form of free professional services, mentoring, as well as work space provided by corporate sponsors.
The investment was done as part of a global startup contest organised by StartmeupHK Venture Forum. The competition saw 550 entries out of which 46 were from India. Out of these, Delhi-based SaaS firm Contify, which has developed an online intelligence platform for businesses to track competitors, monitor markets and supplement strategy development, was among the finalists.
Here is a quick look at the startups:
Freightos: A Hong Kong-based SaaS solution for the logistics industry that offers contract management, online quotations, and a network for matching buyers and sellers of freight services.
Perseus Telecom: Based in the US, the firm is a private global network provider for financial trading, gaming, e-commerce and multi-media.
Scoutbots: It is a Hong Kong based firm that has developed open hardware technologies to explore and protect the ocean.
Easy Finance: The UK-based startup is a personal finance management (PFM) tool for family budgeting.
Seevider: It is a US-based firm that offers a smart parking solution with a vision sensor that notifies parking availability.
Founded in 2000, InvestHK was conceived to attract foreign direct investment (FDI) and businesses to set up or expand in Hong Kong. It has completed over 3,300 investment projects and invested over $11.3 billion till date.
(Disclaimer: The writer travelled to Hong Kong on InvestHK's hospitality)
---