M-AdCall launches video based ad network focused on mobile; will it succeed?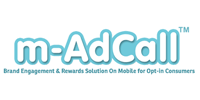 Video-based mobile ad network M-AdCall offers interactive video ads to customers before a phone call, and on a confirmatory click, delivers a video ad to them. This is followed up with an actionable landing page after the call. Customers earn points for viewing the video ads, which can be converted into rewards. Basically, it negates the need of brands to work with multiple apps or publishers.
The Delhi-based firm has recently also launched a service that allows customers to view ads before they start interacting with an app / game of their choice. For instance, they could opt to see ads prior to playing Candy Crush, or using apps like Facebook, WhatsApp or Twitter.
"We launched the new product as we wanted the users to be able to choose to view the ad when they are free and comfortable. This gives an excellent set of viewers (who are already positively predisposed) to our advertisers. The service works even with a low or nil 3G / Wi-Fi connection as the platform downloads the videos whenever the network connection is available, so that the viewer gets a consistent, smooth experience. The video playback is of HD quality with no buffering," said Jay Jain, co-founder, M-AdCall.
Traction
The startup claims that over 1.2 million customers have downloaded the m-ad call service and over half a million are using it regularly. The company serves 3-5 ads per day per user. The service comes pre-loaded on Micromax devices, and also runs on any smartphone that has a Tata Docomo, Idea or MTS connection. The company is planning to extend the number of telecom operators going forward.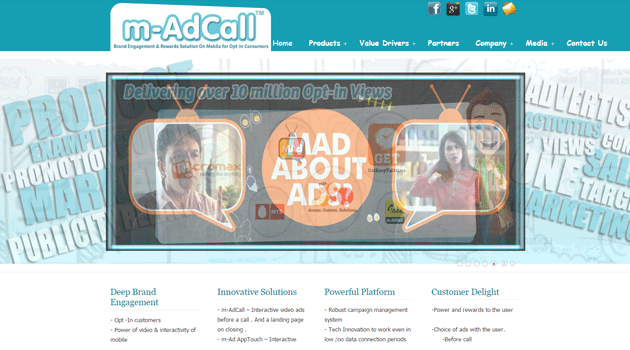 It has 25 advertisers including FMCG brands like Coke, KFC and Cinthol, as well as players in the media & entertainment space like Star Movies and Yash Raj Films who use it to promote a few of their releases. Others advertisers include Visa, Free Charge, and handset brands like Samsung and HTC.
Revenue model
The firm charges it clients based on three models - cost per video view which is about is Rs 1.5; cost per click which is about Rs 2.5; and cost per view+visit that is Rs 3.5.
Although the firm doesn't have a direct competitor, it draws its advertising revenue from the existing ad spend pie, hence all publishers effectively compete with it. Another startup in the space, PingOO, rewards its users for just playing games. The rewards could include a meal coupon at the nearby local restaurant or a free coffee at large beverage joints.
Indian mobile advertising market is estimated to reach Rs 2,800 crore by 2016, estimates Avendus Capital, a Mumbai-based financial advisory firm. Mobile advertising volume in India has grown the fastest (by 260 per cent) in the world since July 2013, and is also the fastest growing region in Asia-Pacific with 70 per cent Y-o-Y growth, as per a recent report by Opera.
Will it succeed?
According to Pranay Gupta, co-founder of 91springboard, video ads is increasingly becoming interesting with large brands creating them for YouTube.com anyway. Mobile has become the first screen for accessing internet, apps etc. and marrying the two is an interesting concept.
However, he pointed out that there are also a few challenges. "In mobile, we are mostly either seeing the screen (during dialling a call or while playing a game) or you are listening (while talking on a call). A video requires you to both see and listen which can happen only if you are on speaker or headphones. This is only a small percentage of total mobile phone use."
Also, as far as free calls are concerned, rarely does one get into a call knowing how long it will last. So a time bound call is something which can end up being a bad user experience and hence may end up being a challenge."
Bootstrapped as of now, the startup aims to raise funding in the coming months to expand its user base and further build on its technology platform.
Comment(s)