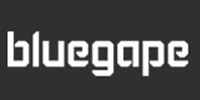 Fan merchandise and customisation platform Bluegape.com has shut down owing to copyright issues. While Sahil Baghla, co-founder and CEO of Bluegape confirmed the shutdown to Techcircle.in, he declined to comment on what's next for the company.
"We were a team of 50 people at the time of taking this decision. Out of them, 18 came back and said that they want to work with me in whatever we plan to pivot to. We are not shutting down the company & brand name, and will be pivoting with the existing team and investors," said Baghla.
The company has also sent out an email to its fanstore owners informing them of the shutdown. According to the founders, the company was generating monthly revenues of over Rs 1 crore at the time of the shutdown.
"We are facing a lot of challenges in running the merchandise business in India. Indian copyright act is very unclear on the sale of fanart. We built a simple model where we focused on bringing designers and retailing them through Flipkart, Amazon and Snapdeal," read the email.
However, Flipkart and Amazon got a number of notices on the sale of fanart on their website, and the e-commerce players did not want to take any risk by retailing the same.
"Under all these problems, it's getting super tough to continue the merchandising business as fanart is more than 70 per cent of our total sales. We discussed the issue in length with Flipkart and Amazon in the last one month but were unable to reach to a solution. We want to pivot at this point. After spending three years doing merchandise business, it's been a really tough call for us," the email further read.
According to the company, all the fanstore payouts that are due will be cleared on Dec 7, 2014. Below is a screenshot of the entire email.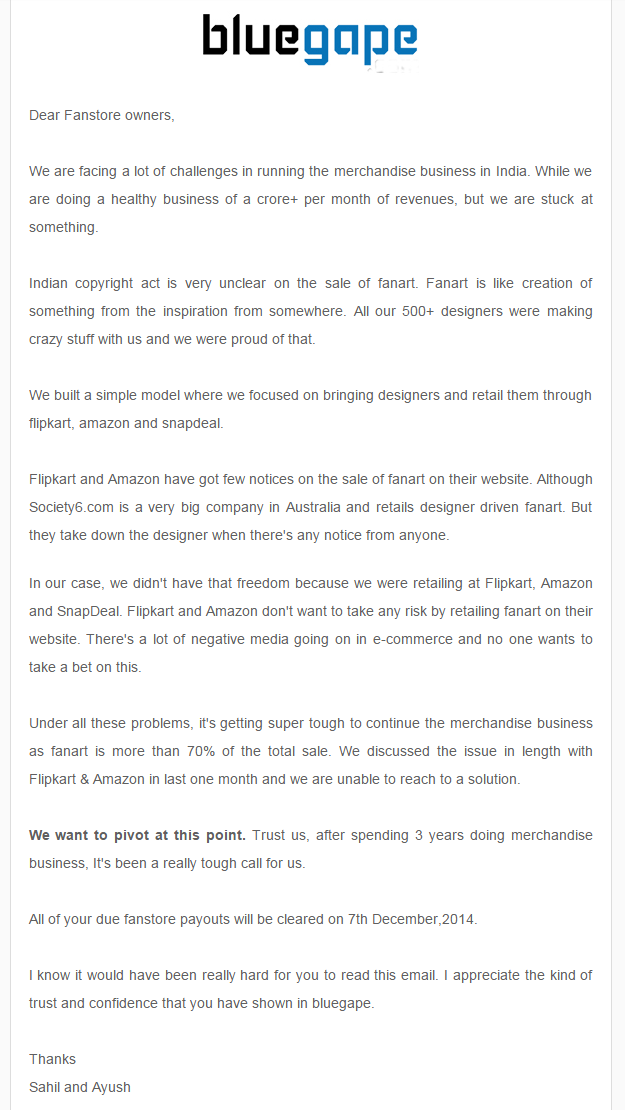 Delhi-based Bluegape LifeStyle Pvt Ltd, the startup that owns and operates Bluegape.com, was founded in August 2011 by Baghla, Ayush Varshney (CTO) and Akash Rastogi (operations), who were later joined by Shailendra Singh (design). All three founders are IIT-Kanpur alumni. Baghla and Rastogi have also earlier had brief stints with Orbis Biosciences (Baghla) and Reliance (Rastogi), prior to Bluegape.
In Jan this year, the company had raised Rs 1.56 crore (around $250,000) from global investors via an online funding platform LetsVenture.com. In May 2013, it had raised under Rs 1 crore in angel funding from Aniket Khera (fund manager at Wegmans Financial Services Ltd), Rahul Bhatia (portfolio manager at Willow Investment Management, LLC) and an unnamed internet entrepreneur. The startup was also selected by TLabs, an accelerator programme run by Times Internet Ltd (TIL) and apart from the mentoring; it received a Rs 10 lakh cheque from the accelerator in March 2012.
Indian e-com casualties
India has witnessed a slew of e-commerce casualties over the last couple of years. A string of e-commerce startups had shut shop due to multiple reasons like staggering customer acquisition costs, cut throat competition and lack of fresh capital.
Earlier this month, Kidswear e-tailer Unamia.com, run by Bangalore-based Appcity Software Technologies Pvt Ltd, shut down its operations in what marked another consolidation in kids' products e-com vertical.
Online toy store Wopshop shut down but the founders continued their entrepreneurial journey with another venture Pokkt. Another baby care focused e-tailer Hushbabies was shut by investors and its top management. In another consolidation in the baby product vertical, Babyoye acquired Hoopos and later shut it down. Babyoye has been looking to raise capital for long but has not been able to do so and the market had consolidated around the most funded peer FirstCry.
In other verticals, Flipkart had acquired and shut down LetsBuy and in the apparel segment, Myntra bought and shut SherSingh as a separate property, while retaining it as a private label. Early this year, Flipkart acquired Myntra.
Others which pulled down the shutters include Koolkart, Rock.in and MiraiStore which caved in due to lack of funds while Delhi-based electronics e-tailer Timtara shut shop amidst controversy after the co-founder was arrested for allegedly cheating over 200 shoppers by taking payment and not delivering products.
Early this year, Techcircle.in had first reported that men's fashion apparels e-shop, Fetise.com, is shutting down due to corporate governance issues. Fetise joined other VC-backed ventures which shut down such as Indiaplaza and Seventymm (both are backed by Kalaari Capital). Another similar venture is 99labels where the site is still live but its investor Info Edge wrote off its investment.
A couple of months ago, online fashion and lifestyle retailer Yebhi.com pivoted its business model to become an aggregator as a fashion discovery platform and redirection site.
---