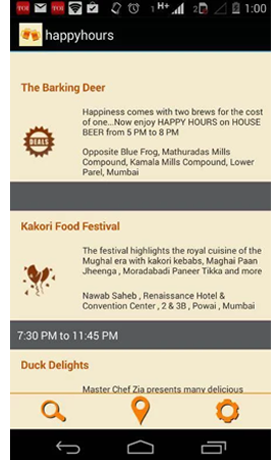 College students in particular are constrained by their wallet size and are constantly on the lookout for a restaurant, pub or lounge that has a perfect blend of great food & drinks, an ideal ambiance, and above all great offers. Mumbai-based startup FNB City Media Pvt Ltd, which offers a mobile app called Happy Hours, aids users in finding just that.
Available on the Android and iOS platforms, the app finds deals and events at a local restaurant or pub around the user. Also, using the app, restaurants can regularly update their listings, deals, and details on special events etc., as well as upload photos and videos for the same.
"We have given complete freedom to the restaurant manager to update offers and connect directly with customers. We have also built a very simple consumer experience in order to ensure that customers quickly get what they are looking for within the app," said Hemant Jain, founder, FNB City Media.
The startup was founded in September 2013 by Jain, who has over 18 years of experience in the mVAS and new media space and has earlier worked at companies like Radio City, Hungama, Reliance WebWorld, and Mudra Communications, among others.
The company first conducted a pilot with seven restaurants in Powai (Mumbai), and went on to cover over 1,500 restaurants and pubs in 15 cities including major metros, as well as cities like Indore, Lucknow, Jaipur, Udaipur, Chandigarh and Ludhiana. It currently claims 2.6 lakh app downloads with 60,000 monthly active users (MAUs).
The startup plans to generate revenues through an annual listing fee of Rs 7,000; advertisements; and transactions through discounted meal vouchers and gifting evening experiences. It aims to become the largest local advertising platform in India for restaurant owners to list their restaurant and communicate special offers directly to their customers in real-time.
According to Jain, the company is currently in advanced talks to raise about $800,000 in its pre-series A round of funding. "The proceeds of the round will be used for platform re-design & revamp, marketing, entering new markets, and for penetrating deeper into existing cities," he said.
Expert take
According to angel investor K Ganesh, trying to collect a monthly fee from restaurants is a tough business. But at this stage, the startup should not worry about monetisation; rather focus on becoming indispensable to both customers and restaurants.
"Though the company has early traction and has come out with a unique value proposition in comparison to the likes of Zomato and Limetray, there is nothing stopping these biggies from copying the startup or moving into this space," said Ganesh.
Another angel investor and mentor Ajeet Khurana feels that the hyper local business proposition of a restaurant locator makes sense. "This is a high friction business, and an app such as Happy Hours will need to raise sequential rounds of funding if it wants to cover all the significant markets in India," said Khurana.
"In the next few years, an app is going to emerge as the go-to app for local restaurant/pub search. Let's hope Happy Hours is that app," he added.
---