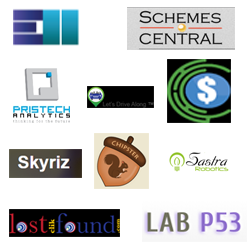 The Bangalore chapter of The Indus Entrepreneurs (TiE) has announced the names of ten startups picked for its second accelerator batch that commenced earlier this month. The selected startups come from sectors like Big Data, healthcare, mobile, cab service, and robotics, among others. According to the accelerator, it had reviewed more than 300 applications for this batch, which takes its portfolio count to 20 startups.
The last batch included startups like Tourlandish, an on-demand mobile concierge that helps travellers discover & book the best things to do in town, which received seed funding of $25,000; and Channelyst, an online marketplace for channel partners, SMBs and consumer product companies that raised $500,000.
Here is a quick look at the 10 startups:
EventsHigh: It aggregates information related to events and allows users to explore them based on their interests and locality.
Swarmverse: It provides online pre-payment schemes on jewellery to its customers.
Pristech Analytics: The startup connects all key players in the parking industry- from the motorists, parking lots, merchants, shopping centres, airports, universities and large organisations via mobile devices to make parking information available for public use through an app/cloud.
Let's Drive Along: An app for car-owners to benefit from next generation car-pooling. Its features include flexible timing, flexible set of pool buddies, car-pool on demand, and a cost sharing model with no money exchange fuss.
Discover Dollar Technologies: It detects and resolves overpayment to suppliers of large retailers in real-time using all data sources including unstructured data like emails and contracts.
Skyriz: The startup has developed Ray, a Braille-based smartphone.
Chipster Technologies: It has developed a compact computing device which has a wireless display, mouse and keyboard for an uncluttered setup. According to the startup, the device makes traditional desktop computer obsolete.
Sastra Robotics: It develops high-end robotics technologies for industrial, consumer and academic research purposes.
Lostclikfound.com: It aggregates all lost and found items on its portal, creating a virtual lost and found ecosystem.
LabP53 Cancer Research: It analyses patient's DNA in order to find out the best suitable treatment for their genetic makeup.
---