Delhi HC partially lifts the ban on Chinese handset maker Xiaomi for importing & selling smartphones in India

Within a week of granting an ex parte injunction order against Chinese smartphone manufacturer Xiaomi for infringement of Swedish telecoms equipment maker Ericsson's patents, the Delhi High Court has now permitted the company to sell and import Qualcomm chipset-based (a licensee of Ericsson) handsets in the country till Jan 8, 2015, according to a tweet by PTI.
A Mint report further mentions that Xiaomi has also been told to deposit Rs 100 for every device it has sold in India or sells till January 5.
Delhi HC's earlier order had forbid the company from manufacturing, importing, advertising, and selling the devices that infringed the Standard, Essential Patents (SEPs) in question. Customs officials had also been directed to stop imports under the IPR Rules, 2007, while local commissioners had been appointed to visit the offices of the company in order to ensure that the orders are properly implemented.
The patents in question include SEPs that are subject to Fair, Reasonable and Non-Discriminatory terms (FRAND). "India is a very important market for Xiaomi and we will respond promptly as needed and in full compliance with Indian laws. Moreover, we are open to working with Ericsson to resolve this matter amicably," Manu Jain, Xiaomi's India head, had said at the time.
Prior to the ban, Xiaomi was selling two smartphones in the country that included Redmi 1S and Redmi Note. It was also planning to launch a 4G variant of Redmi Note later this month. Both Redmi 1S and Redmi Note 4G run on a Qualcomm chipset, while Redmi Note is powered by a MediaTek processor. What this basically means is that the company will still be able to sell two of its devices in India till Jan 8.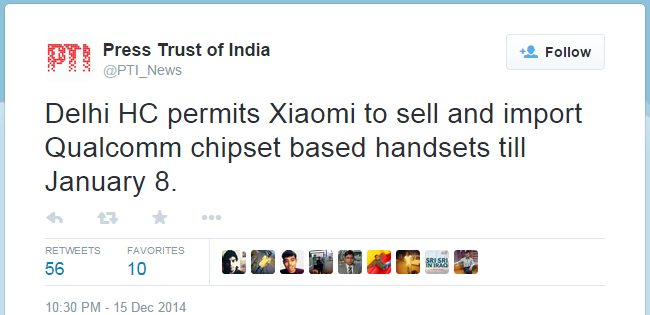 Last week, Hugo Barra, VP, Xiaomi Global, had also posted a message on the social networking site Facebook which read, "We have been committed to continue our sales of Redmi Note and Redmi 1S devices in India. However, we have been forced to suspend sales in India until further notice due to an order passed by the Delhi HC. As a law abiding company, we are investigating the matter carefully and assessing our legal options."
Already one of the leading smartphone manufacturer's in China, Xiaomi had made an extremely successful debut in the Indian smartphone market in July this year with the launch of its flagship device Mi3 in the country.
Following an online only flash sales model for selling its devices in the country, the company has seen its products being sold out within seconds not once or twice but each and every time. In India, the company has entered into an exclusive partnership with Indian e-commerce major Flipkart.com to offer its devices.
Last month, Jun Lei, co-founder and CEO, Xiaomi, had said that India is becoming its largest overseas market for Xiaomi. According to the company, it has already sold over 500,000 smartphones in the country in less than four months of operations. It is now also considering setting up a manufacturing base in the country.
Recently, Xiaomi Global's VP Hugo Barra had also mentioned that the company is planning to invest in Indian startups and is scouting for opportunities in Delhi-NCR and Bangalore for the same. The focus is on mobile and apps that can be incorporated to enhance the product experience.
Ericsson has earlier sued home grown handset manufacturer Micromax Informatics Ltd in March 2013 over alleged patent infringement and refusal to enter into licence agreement related to wireless technology standards such as GSM, EDGE and 3G.
Comment(s)