We began the Mumbai edition of Tech Startup Summit 2014 yesterday with TC Walkabout- a unique initiative started by Techcircle where we arranged a visit to offices of prominent investors, startups and companies and an interaction with the top management. This time around, participants were taken to the offices of investors like Sequoia Capital, Blume Ventures and Lightbox Management Ltd, as well as leading companies including Freecharge.
Pit Stop I – Freecharge, Bandra Kurla Complex
Our first Pit Stop was the office of Freecharge, where we were greeted by founders Sandeep Tandon and Kunal Shah. They took us through the journey of the company and its achievements. The startup claims to be addressing 30 million mobile customers who recharge every day.
Shah shared that in just a year of its operations, the firm had managed to receive funding from Sequoia Capital. Freecharge is also among a select few companies that is getting most of its traction (about 70 per cent) from mobile. Participants also found the evolution of the firm into the third version of its Android app interesting. Today, it has nine million unique registered users and is doing about six lakh transactions per day.
Pit Stop III – Sequoia Capital, Lower Parel
After Freecharge and Orios VP, we reached our next Pit Stop which happened to be the office of venture capital firm Sequoia Capital. As the participating startups settled down to take lessons from one of the biggest early stage fund managers in the country, we were greeted by Abheek Anand and Shailesh Lakhani at Sequoia.
Lakhani informed that the VC firm invests in companies depending on their market size mainly in consumer driven products segment. He also emphasised that the company must have an excellent team, selling strategy and market structure. Usually, the fund takes the investment decision between 24 hours and two years depending on the readiness of product and the company.
Lakhani also stressed on the fact that it is important to have the right VC, and advised companies to spend more time with investors and take third party view from the founders who have already received funding from the same investors.
Pit Stop IV – Blume Ventures, Byculla
Our next Pit Stop was the office of Blume Ventures where we were greeted by the venture fund's CFO and principal Ashish Fafadia. He started the session by promising participants that the interaction will be informal and interactive. Karthik Reddy, managing partner at Blume Ventures, also joined the session.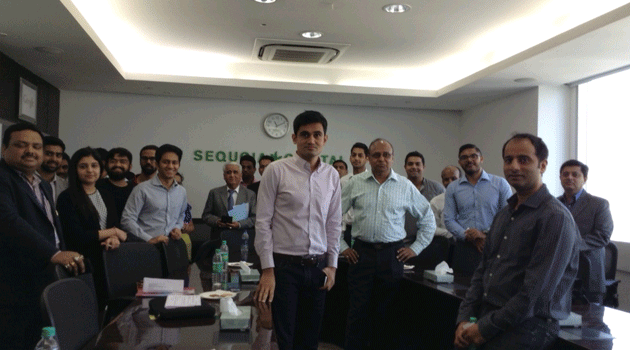 After a quick presentation by Fafadia, participants were given a chance to shoot questions at him and Reddy. The questions ranged from how a startup should try to make a niche for itself and convince investors to bring in the dough, to how to operate under a restricted legal regime in India. Fafadia cleared entrepreneurs' doubts on various aspects regarding jurisdiction, tax implications, as well as sales and marketing.
Both Fafadia and Reddy stressed on the fact that it is important to have the right model and geography of operation for any firm. "If customers, potential investors and talent are abroad, then one should go there immediately," said Fafadia.
He also added that Singapore is a preferred destination for company headquarters apart from the US and the UK. "If certain geography is going to be forming a very strong customer base, it is not a bad idea to incorporate itself there. Also, if it is imperative to move operations abroad, the sooner it is done the better."
Fafadia mentioned that getting the right set of investors is crucial when a company is looking for Series A funding. However, debt should ideally be raised once a venture has achieved break even.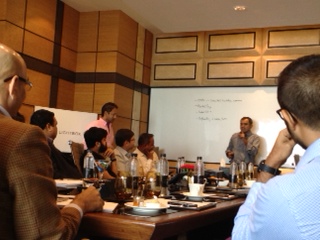 Pit Stop V – Lightbox Management Ltd, Lower Parel
After Freecharge, Orios VP, Sequoia and Blume Venture Advisors, we reached the last destination of Techcircle Startup Walkabout which happened to be the office of a new tech focused VC fund Lightbox Management Ltd. The participants, now familiar with one another, had already started a discussion on what VCs look for in companies before fundraising.
We were greeted by Sandeep Murthy and Prashant Mehta, both partners at Lightbox, who call themselves 'startup' as well. Both of them took the participants through the journey of the fund, which started off by the partners investing their personal funds in startups, and later the fund went on to raise $90 million.
They also shared what VCs look for in a startup, and mentioned that the VC fund wouldn't mind investing in startups at idea stage if it's from a founder who has earlier demonstrated execution capability.
Key takeaways
VCs look at a team that has domain expertise, adaptability and ambition. The startups must test for aptitude and hire for attitude. It's not about being from Harvard Business School or IIT, but the team must have the pedigree, passion and drive. All members in the team must also align with the founder's vision.
While earlier startups came with presentations, today many come with only prototypes. This is possible because entrepreneurs don't need to invest in servers; everything is on cloud. Besides, it is possible to hire freelancers/consultants to make a prototype.
Among others, VCs consider market size, product market fit, revenue model, competitors and operating plan before investing in a firm. On that note, we ended the Techcircle Startup Walkabout.
You can also check out our Twitter handle @techcirclein for updated pictures of the TC Walkabout.
---