A look at the 5 startups showcased at Techcircle Startup 2014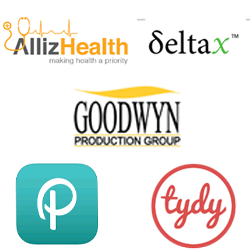 The startup ecosystem in India has witnessed euphoria among angel & venture capital investors, pool of local talent, scores of mentors, and incubators & accelerators. There are several technology- focused startups with innovative models to cater to the vast population of the country.
Techcircle.in provided a platform to five innovative early-stage companies to showcase their products at the Techcircle Startup 2014. Here is a quick look at the five startling ventures.
AllizHealth: AllizHealth is operating in the space of preventive health. It is building a repository of health information to predict health trends, not just on individual or family level but also at a community and the national level. It has launched a web-based tool to record existing medical conditions, allergies, medications, prescriptions, surgeries, reports and clinical diagnosis.

DeltaX: DeltaX enables advertisers in buying, tracking and optimising media across search, social media, mobile and video. The platform supports any currency or time zone, and is available in over 10 languages. It claims that it is building a one-stop platform for digital marketing that will provide real-time optimisation of search, social and display campaigns to give good return on investment (ROI).
Goodwyn.com: It is a tea e-tailer that delivers the fresh tea directly from the estate. It offers a range of products, including organic whole-leaf teas, flavoured teas and herbal infusions. The firm has retail presence in Bangalore, Hyderabad, Visakhapatnam, Delhi and Chandigarh. It also operates a store in Guwahati Airport.
Tydy: Tydy is a cloud-based mobile content communication platform for businesses. It creates, manages and administers the content, and also allows collaboration on various devices with colleagues. Businesses can use the tool to improve efficiency and effectiveness of their teams with the power of mobile devices.

Pipes app: Pipes provides summarised news through algorithms of specific areas, which the user wants to track. The users can also customise push notifications for their selected topics, while controlling their frequency. It crawls data from over 10,000 sources every hour.
---