Airtel to charge its subscribers extra for VoIP calls over 2G and 3G
In a move that will upset (to put it lightly) its subscribers, telecom operator Airtel will now charge extra for VoIP (Voice over Internet Protocol) calls over 2G and 3G in India. What this basically means is that even if you have an active 2G/3G internet data pack, you will still need to shell out a little extra for VoIP calls.
According to Airtel, VoIP calls would be charged at 4p/10KB on 3G, while subscribers will need to shell out 10p/10KB for such calls on 2G. The development was first reported by Telecom Talk.
"All internet/data packs or plans (through which customer can avail discounted rate) shall only be valid for internet browsing and will exclude VoIP (both incoming/outgoing). VoIP over data connectivity would be charged at standard data rates of 4p/10KB (3G service) and 10p/10KB (2G service)," read Airtel's new terms and conditions (see picture below).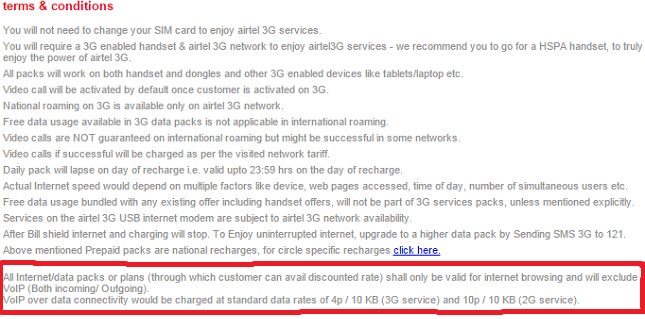 To put things in perspective, VoIP calls will include all the calls you make via services like Skype, Viber, Line and even Google Hangouts. This would be a big blow for users who have become accustomed to using such services to connect with their friends and family living abroad (and in India). WhatsApp, a cross-platform instant messaging app, is also working on its voice calling service, which is scheduled to launch early next year.
"We have made some revisions in the composition of our data packs, and will offer VoIP connectivity through an independent pack that will be launched shortly. Our customers can continue enjoying voice calls over data connectivity by opting for this VoIP pack, or simply use VoIP services on pay-as-you-go basis," said an Airtel spokesperson.
Interestingly, in August this year, the Telecom Regulatory Authority of India (TRAI) had decided against a proposal from telecom operators to make companies that offer popular services like WhatsApp, Viber and Skype share part of their revenues with them or the government.
The regulator had also shelved plans to initiate a consultation process as it felt that operators are able to offset their losses through the growth in data revenue. It further added that one-third of the incremental revenue of the telcos is coming from data services itself.
Telecom operators want over-the-top-players (OTTPs) who use their networks to pay all the fees that carriers pay to the government. This in turn will force these app makers to charge for their apps (which are currently free), bringing them on par with the telcos.
Last month, Microsoft-owned internet calling service Skype had discontinued its voice calling services to landlines and mobile phones within India. The company had clarified that this change only affects Skype calls to landlines and mobiles, and users can still make Skype-to-Skype calls within India free of cost (data usage applicable). They can also call mobiles and landlines in India from outside the country, as well as make calls from India to other countries.
Comment(s)