Singapore and India-based Tookitaki Holding Pte Ltd, the company behind the data intelligence startup Tookitaki, has raised $1 million in seed funding led by Singapore-based Jungle Ventures, according to a top executive of the company. The round also saw participation from Japan- and Singapore-based VC fund Rebright Partners, besides existing investor Blume Ventures.
The proceeds from the round will be used for R&D, in addition to expanding operations to Southeast Asia, Japan, Australia and New Zealand.
"Consumer behaviour forecasting is important in responding to strategic and tactical business decisions, especially in marketing and sales, where enterprises are always looking for new technology to help them better target and engage their customers. Tookitaki has a strong technology proposition," said Amit Anand, managing partner at Jungle Ventures.
The startup was founded by Abhishek Chatterjee and Jeeta Bandopadhyay. An MS in Computational Biology (applied mathematics) from the University of Southern California, Chatterjee had previously worked at JP Morgan and Google. Bandopadhyay is an alumnus of St. Xavier's College in Kolkata, and had earlier worked at the Times Group.
Tookitaki is a data intelligence platform focused on consumer behaviour discovery and prediction. It offers a SaaS platform to provide actionable insights and forecasting solutions on consumer behaviour for enterprises. The firm claims that its analytics are based on predictive models, which combine multiple datasets to build a 360-degree consumer model that can impact marketing, sales and operations enterprises.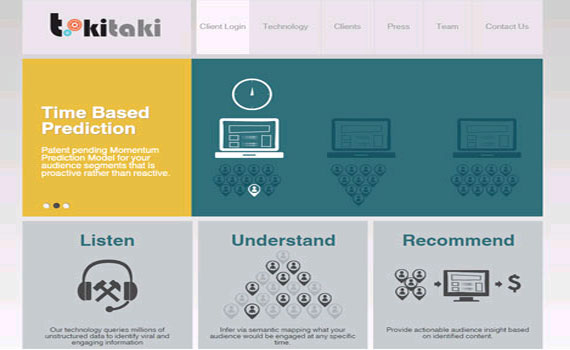 Incubated at IIM Ahmedabad's iAccelerator, Tookitaki had earlier grabbed $200,000 in funding from a group of investors, including Blume Ventures, India Internet Group and Harvard Angels.
Jungle Ventures is an active VC fund that has a good presence in India. It had earlier invested in micro-lending platform Milaap, Big Data firm Crayon Data, online healthcare startup Klinify, grocery e-tailer Ekstop, and mobile payments platform Pokkt. Rebright is a seed-cum-early stage investor focusing on internet and mobile industries in Indonesia, Malaysia, Philippines, Vietnam, Thailand and Singapore.
"Japan-based customers are great prospects for Tookitaki's products and we will help the company realise this potential," said Takeshi Ebihara, founding general partner at Rebright.
There are many startups that operate in the data intelligence space including eMart, which had raised over $2 million in funding from a group of Silicon Valley-based angel investors a few years ago.
(Edited by Joby Puthuparampil Johnson)
---