99acres.com, a real estate portal run by Info Edge (India) Ltd, has appointed Narasimha Jayakumar as its chief business officer. According to his LinkedIn profile, Jayakumar had joined the company earlier this month. The development was first reported by MediaNama.
Jayakumar has over 17 years of work experience and prior to 99acres.com, he was the chief operating officer (e-commerce) of HomeShop18. He had joined the company back in 2010. Before that, he was the business head (travel and local) at Google India. He had earlier also worked at companies like Expedia Inc., Galileo International, and Tata Group.
An Indian Institute of Management (IIM) Bangalore alumnus, Jayakumar also has a B.Tech degree in Computer Engineering from National Institute of Technology, Karnataka. He also holds a MBA in general management from London Business School.
In November last year, HomeShop18 had scrapped its proposed public issue which sought to raise a total of $75 million through a listing on the New York Stock Exchange (NYSE) including offer for sale by some shareholders such as its CEO Sundeep Malhotra and parent Network18. The firm had decided not to proceed with the offering as it was re-evaluating its capital raising strategy. The announcement came within months of change in management of Network18 where Reliance Industries took over as part of a previous deal struck over two years ago.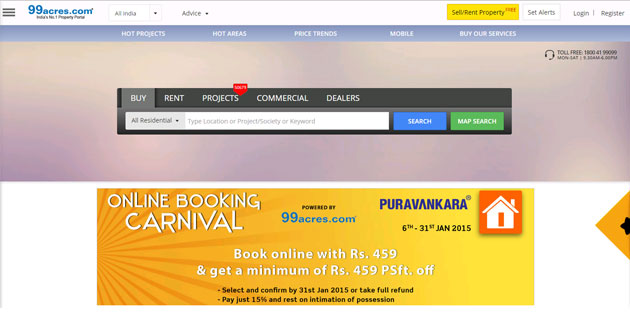 In July 2014, Info Edge had announced that it was raising Rs 750 crore ($125 million) through a qualified institutional placement (QIP) for investment in real estate portal 99acres.com. In the following months, the company revealed how it plans to invest the funds in hiring talent, product, services and building the brand.
As of October last year, 99acres.com had 13,000 new projects and 23,000 ready to move in societies on the platform and was targeting adding another 15,000 over the next few months. The firm is looking to grow its listings with a special focus on owner listings. The firm further claimed to have over 7,000 customers who were using its premium offerings. It had rolled out verified listing services in Chennai, Hyderabad, Kolkata and Pune in the last few months, taking the overall coverage of verified listings to seven cities.
Info Edge had reported net profit of Rs 33.2 crore for the quarter ended September 30, 2014, the same as the corresponding period last year even as net revenues climbed 19.4 per cent to Rs 147.5 crore. This was partly due to sharp rise in ad spends last quarter.
---