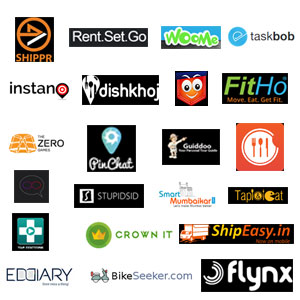 Mumbai-based VC firm IndiaQuotient (IQ) has shortlisted 25 startups for funding as part of its #MobileIQ programme, which aims to provide initial funding to early-stage mobile ventures. The free-of-cost event is focused on identifying startups that build products for masses beyond barriers like internet, language or apps.
The three-day event (to be held from January 16-18) is designed on the principle of 'learn-launch-get funded'. The top team will get on the spot funding of Rs 50 lakh (around $80,000) in the form of a pure convertible note.
The winner will be judged on the basis of their venture description, market analysis, unique value proposition, competitive landscape, revenue model description, social impact and team description.
"Our objective is to play catalyst for the startups and focus more on finding the right companies by looking beyond valuations. We want ideas that focus on untapped sectors like finance, healthcare, education, gaming, social, and small business software, etc," said Anand Lunia, founder, India Quotient.
Founded in June 2012, IQ has invested in 18 companies till date including mobile payments firm Momoe; event discovery app Nearify; lingerie e-tailer Pretty Secrets; health food startup Frsh; and Purple Squirrel, which offers a platform for students to connect with corporate.
IQ is also targeting to raise Rs 150 crore ($24.3 million) afresh for its fund II, which will be focusing on pre-revenue startups. IQ expects to close the funding round by May-June 2015.
Here is a quick look at the 25 ventures shortlisted for the #MobileIQ programme:
Shippr: A logistics solution aimed at local deliveries.
RentSetGo: A platform that enables users to borrow or lend stuff like camera, lenses as well as mountain bikes from people around them.
WooMe: An app for live TV interaction and engagement.
Instano: A virtual shopping platform that provides a common place to shoppers and retailers to close the best deal depending on the customers' preferences like price and proximity.
Taskbob: An m-commerce platform to book household services.
Dishkhoj: An online food ordering platform.
PocketAd: A mobile gaming platform that helps users earn while playing.
FitHo: FitHo is an online weight loss platform with a personalised diet and exercise plan.
The Zero Games: Offers a virtual billboard, which is an in-game advertisement medium through which ads can be integrated seamlessly and dynamically into the game environment and game object/assets.
Pinchat: A location-based comments and conversation platform.
Guiddoo: A personal tour guide and planner.
Bite Club: Lets you order fresh, delicious and wholesome meals prepared by chefs around you.
Loopy Messenger: A chat platform that allows you to send animated over-expressive disappearing drawings.
StupidSid: An Android app that helps students learn more effectively and make informed decisions about education.
Sharingo: An online car pooling platform.
Tap & Eat: A smartphone app to instantly order food and drinks.
Tap-Doctors: An app that allows you to reach out to your doctor or search from hundreds of doctors around you.
CrownIt: Provides users with exclusive cashback offers at their favourite restaurants and outlets.
ShipEasy: An online logistics marketplace that lets consumers post their shipment, and allows verified transporters to provide their best prices and services for the same.
Eddiary: A digital school diary (a utility mobile app for schools) which digitises the basic communication between teachers and parents.
BikeSeeker: It helps users search for bikers around their location and book for a ride.
Flynx: A floating browser for Android that makes multitasking effortless while browsing web on mobile.
Other ventures shortlisted for the funding programme are Reach, HighwayDelite and WhichApp.me. However, details about the startups are currently unavailable.
---