Excl: Olacabs in talks to raise up to $500M at $2B valuation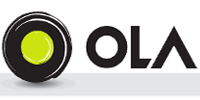 Barely three months after Mumbai-based ANI Technologies Pvt Ltd, the company behind Olacabs, an online marketplace for cabs and car rental services, raised $210 million led by SoftBank, it is back in the market to scoop between $300-500 million more, sources privy to the development told Techcircle.in.
"Ola has doubled in size in terms of revenue run rate since its last fundraise when it was valued at $1 billion. It is now seeking twice the valuation," said one of the sources.

The source added that it is likely to rope in at least two new investors including a New York-based fund besides a Hong Kong-based fund house, besides participation from most of its existing investors. "While one of the new investors is a hedge fund, the other is a PE investor," he said.
VCCircle/Techcircle.in could not immediately ascertain the names of the new investors.
Several calls and an email queries to Bhavish Aggarwal, co-founder and chief of Olacabs, did not elicit any response.

Email queries to its existing investors on whether they would be participating in the ensuing round, too, did not elicit a response.
The firm counts SoftBank, Tiger Global, Matrix Partners, Steadview Capital and Sequoia as investors.
Olacabs is looking at an aggressive ramp-up to increase its presence four-fold to 200 cities by the end of this year from 52 cities at present, according to the source.

Olacabs was founded in January 2011 by IIT Bombay alumnus Aggarwal and Ankit Bhati. It essentially connects users to independent cab drivers to book intra-city rides either on the go or by booking ahead of the scheduled travel plan. It also used to offer inter-city cab rentals but has discontinued it sometime back.
It claims to have 60,000 cabs on its platform serving two lakh customers daily. The company has added over 15,000 cars to its platform in the last three months and has launched operations in over 34 new cities during this period. It says it has been adding over 1,000 cabs to the platform every day.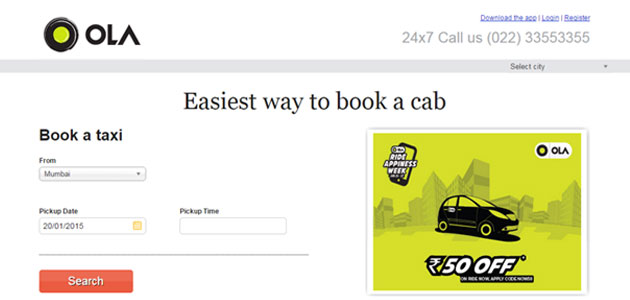 Ola's mobile wallet was introduced in October last year and the company claims that first-time users of this tool are growing at the rate of 40 per cent per month.
The firm also began making auto bookings available on its platform in beta mode across six cities in India including Bangalore, Mumbai, Delhi, Chennai, Pune and Ahmedabad. Another new category that is currently in beta mode is 'Ola Pink', cabs driven by women drivers and is only for women passengers in Bangalore. It also started adding the conventional black & yellow cabs of Mumbai to its platform.
Recently, the firm roped in Gurgaon-based background-verification firm AuthBridge to vet the drivers. Among the other initiatives, the firm released an SOS button for customers, which, when activated, sends out all ride details in real-time including GPS coordinates to pre-set friends and family members of the user via SMS and e-mail.

The firm, however, has been facing some regulatory challenges after the Delhi government temporarily banned internet booking platforms of cabs following the rape case involving a Uber driver last month. There is an ambiguity over whether such firms are allowed to operate in some cities.
Funding history
The proposed fundraising, which would be its Series E or fifth round of institutional funding, would strengthen its position as the most heavily funded player in its business. It would also make it the third most funded new generation tech venture behind Flipkart and Snapdeal. One97 which operates Paytm is in the final stage of scooping a large round.

Olacabs had raised $210 million in its Series D round led by Japanese internet and telecom giant SoftBank. Previously, it raised Rs 250 crore ($41.8 million) in its Series C round of funding led by Hong Kong-based hedge fund manager Steadview Capital and Silicon Valley-based Sequoia Capital. Existing investors Matrix Partners India and Tiger Global Management also participated in this round.
In November 2013, Olacabs had raised its Series B round of funding led by Matrix Partners India for a big minority stake, with participation from existing investor Tiger Global Management. Although the company had not disclosed the amount at the time, media reports pegged it at $20 million. Prior to that, it had raised Rs 19.2 crore ($3.2 million) from existing investor Tiger Global in July the same year, which was believed to be part of the same round.
Back in 2012, the company had raised over $5 million in its Series A funding from Tiger Global. Prior to that, it had raised angel funding from a bunch of individual investors, including Rehan Yar Khan and Anupam Mittal.
In the cab booking segment, Ola is seen as the biggest player competing with Google Ventures-backed global major Uber and domestic players such as TaxiForSure (backed by Accel Partners and Bessemer Venture Partners), Savaari, taxiGUIDE and Cabs24X7.
While on the one hand, they have been slowly giving an organised face to the highly fragmented market for taxis in the country, the rush of cash among the peer group and the race to break out of the pack have now forced the top-bracket players to get into a price war. The recent setback with regulatory bans in some cities has however leased a new life to old generation hybrid cab service companies such as Meru, which also run its own cabs besides providing booking for cabs owned by others.
(Edited by Joby Puthuparampil Johnson)
---