Singtel, Sony and Warner to launch video streaming service HOOQ in India & other Asian markets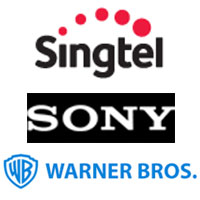 Singapore-based telecommunications company Singtel, Sony Pictures Television and Warner Bros. Entertainment have established HOOQ, a joint venture to offer a regional over-the-top (OTT) video service in Asia.
According to the company, HOOQ will deliver Hollywood movies and television series, as well as popular local movies and programmes to customers. The service will also enable its customers to stream and download shows on their device or platform of choice.
The service will be rolled out in markets like India, Indonesia, Thailand, and the Philippines, from the first quarter of 2015. At launch, HOOQ will have a catalogue of over 10,000 movies and TV series including titles such as Spider-Man and Harry Potter to TV shows like Friends and Gossip Girl etc. Customers will also be offered a selection of Indian, Chinese, Thai, Filipino, Indonesian, Korean and Japanese movies and TV series.
"Demand for OTT video is poised for higher growth in these markets fuelled by better data networks and the growing supply of affordable devices. With HOOQ, we are bringing together key elements of technology, service and content to deliver the full internet experience to customers," said Jonathan Auerbach, CEO, Singtel Group Digital L!fe.
"Today, across developing markets, there is limited access to quality entertainment, streamed directly to the screen of one's choice. It's either illegal, high cost or difficult to get. We aim to fix that," added Peter G Bithos, CEO of HOOQ.
Bithos has been named CEO of Singapore-based HOOQ and he will be responsible for overseeing its day-to-day operations. He was previously the chief operating advisor of Globe Telecom in the Philippines.
The video streaming service will also use the Singtel Group's billing capabilities, which could turn out to be crucial for markets like India where credit card penetration is limited.
Competition in India
Last month, Star India had launched a video streaming service in beta called Hotstar.com.
In September last year, Pritish Nandy, chairman of Pritish Nandy Communications Ltd (PNC) had announced the launch of a proprietary online video streaming product called Ogle, on the lines of global firms such as Netflix Inc. and Amazon's instant video. According to Nandy, Ogle can stream high quality content on any device, including smartphones, tablets, laptops, as well as Smart TVs. However, the platform is yet to add any content on it as of now.
Other players in the space include Times Internet's online video service BoxTV; Reliance Group's movie-on-demand platform BigFlix.com; Eros International Media's online entertainment service called Eros Now; and Spuul, a Singapore-based online video streaming service for Indian cinema and TV shows.
Comment(s)