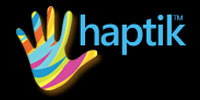 Traditional customer service included an automated call machine and a series of dialer notes. This was followed by a not-so-qualified customer care executive who more often than not did not manage to solve a problem and ticked them off.
This prompted Haptik to give it a makeover through its WhatsApp-like app that connects users with experts, according to Aakrit Vaish, co-founder and CEO of Mumbai- and San Francisco-based mobile messaging concierge service Haptik Inc.
The firm has developed a mobile-based one-to-one chat platform that enables users to get help with their products and services. Users can send chat queries to enterprises on various service-related issues, and the enterprises respond in about four minutes.
"We thought customer service should be as easy as sending a message, and chatting directly with a real person," said Vaish.
The startup was founded in August 2013 by Vaish and Swapan Rajdev (CTO). Vaish was previously India head of Flurry Inc., a mobile analytics, monetisation and ads firm, which was acquired by Yahoo in July 2014. Last year, Vaish had also co-founded Flat.to, an accommodation search platform for college students, which was snapped by online real estate firm CommonFloor in April 2014. Vaish holds a BS degree in Industrial Engineering from the University of Illinois, Urbana-Champaign.
His partner Rajdev was previously an engineer at Radius Intelligence, a startup selling location-based data services to enterprises. Earlier, he was a technology consultant at Accenture. Rajdev holds a BS in Computer Engineering from the University of Illinois, Urbana-Champaign.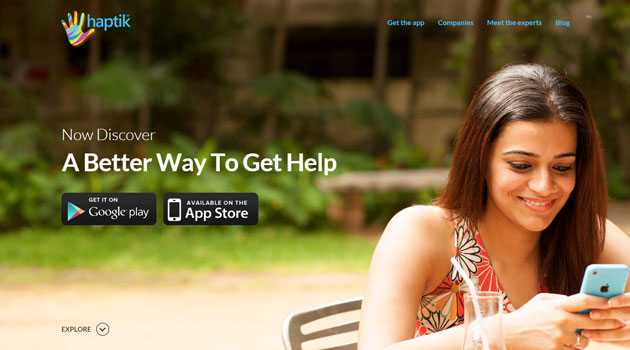 How it works?
The app is currently available on the iOS and Android platforms. With Haptik installed, users can send a query that could range from finding the best mobile plan, to web check-in for air travel, finding coupons, movie timings, as well as locating the nearest ATM etc.
The firm has also developed a section called 'My Companies', where users can add the names of their mobile operator, bank, car manufacturer, cable operator, among others, in order to asking questions related to them.
When a user taps on a particular company name, the app also provides a list of commonly asked questions that the user can click and send to get answers. In addition, the app also offers smart action features like sending e-mail, Twitter or Facebook messages, website access, or making phone calls directly from the app.
The company is also planning to add an image sharing feature soon in order to allow users to send copies of their bills via the app.
Interestingly, the app shows identity of every agent you will be making a conversation with, so that you don't feel as if you are dealing with an automated bot. The firm claims of having 75 such experts on board currently.
As per its website it has some 207 companies on board across 13 product/service categories including banking & finance, automobiles, electronics, insurance, restaurants, health, travel, movies & events, shopping, utilities and telecom.
Show me the money
The startups' revenue model is tied to its clients, who are essentially brands that plug into the platform and directly engage with their users. Haptik, which is free for consumers, had recently acquired its first paying customers.
It currently offers a subscription model wherein it charges Rs 10,000 for sending up to 10,000 messages per month. The experts who handle chats are contractors who are paid a base amount for each chat handled by them.
"We will add ways in which brands can further engage with their users and charge them based on the quantum of engagement. These could include promotional notifications or service alert like for instance 'Vodafone down' in Mumbai," explained Vaish.
The firm claims of having processed about a million messages last month. "We have grown 10x in the last six months. Only 10,000 messages were exchanged on the platform in July 2014," said Vaish.
Last year, Haptik had raised $1 million in its first round of equity funding from Kalaari Capital. Recently, WeChat has also started providing customer support inside its app.
---