How 10times app helps its users manage networking at B2B events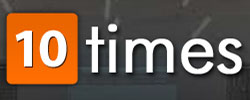 The rapid growth of B2B events has drastically increased our network of professionals. However, it is a challenge to make sure that we network effectively with the ones that matter to our business. Many a times, we exchange business cards with people we meet, but eventually end up losing their cards, not knowing how to contact them post the event.
Gurgaon-based startup Ten Times Pvt Ltd has come up with a solution to address this challenge. The startup has developed an event discovery and networking app called 10times, which ensures that the event-goers' contacts on your smartphone are always up-to-date. The app also enables its users to network with them not just offline but also online both pre and post-events.
"We started as an event discovery platform, but later understood that event-goers wanted more than just discovery. They wanted to engage with other attendees and so we developed online networking among them," said Atul Todi, co-founder, Ten Times.

The startup was founded in January last year by Todi, Mayank Chowdhary and Ashwani Gaur. An economics and psychology graduate, Todi has previously worked at companies like Electronic Data System (an HP company) and Purdue Marketing and Media. He had earlier also co-founded a business a technology firm called Caterpillar Labs, as well as a product building firm Mirchi Labs. An IIT alumnus, Gaur was previously a consultant at Deloitte & Touche. He also earlier co-founded PlayCez Technologies. Chowdhary is an alumnus of Institute of Management Technology and was previously working as a product manager at IndiaMart.
How it works?
With 10times installed, you can choose your industry to help curate relevant events; register for an event and send a request to attend it; see who else is attending; connect with attendees before the event and plan a meet; network during the event; and engage with them post the event.

According to the founders, attendees can use background data for smart networking and set up meetings that enable them to optimise their time and improve the return on investment (ROI) from attending a particular event. The app also syncs with the users' calendar and provides live updates about events.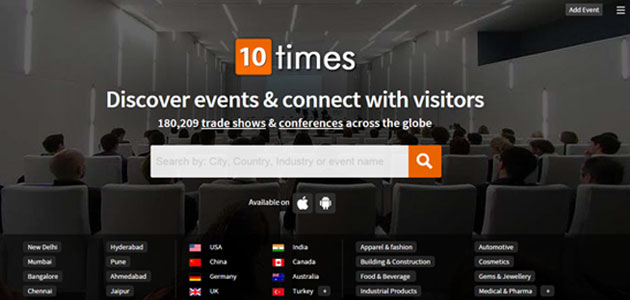 Some of the new features the company is planning to add include smart recommendation based on machine learning and social data, geo-based connection suggestions for event attendees, and event meeting scheduling manager as well as auto-connect suggestions.

"Ultimately, the goal is to help you get maximum value out of the event by accessing more information through the listing. Whether you are looking for a person or a company manager, making a connection before the event is a better way of managing the limited time you have at the venue," said Todi.
Available on the Android and iOS platforms, the app has had over 21,000 downloads and has over a million web users. Todi claims that the app has already generated over two million business inquiries from 50,000 live events across the world. He further mentions that it is the official networking app of a number of companies including UBM, Messe Frankfurt, Messe Munchin, FICCI, HKTDC, COEX and PICO, among others.
Revenue model

The company claims of be cash positive as of now, and is generating a majority of its revenues through advertisements on the platform. Claiming to have about 3 million page views, it charges $1,000-3,000 per event depending on the placement of the event. The firm also charges event organisers for using its platform to send out timely event updates, managing contacts and tracking users. This works on a pay per month/year or per event basis.
Competition
The firm competes with Eventbrite, which is focused on B2C events. While the company's business model presently revolves around only ticketing, it had recently bought Lanyard for entering the networking space. Meraevents.com has also developed an app called 'Moozup' but it is not available on the new Android versions.

---