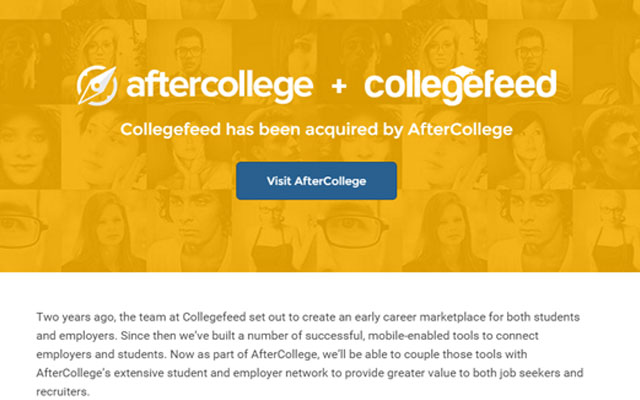 AfterCollege, an online platform which helps recent college pass-outs find entry-level jobs and internships, has acquired California-based Collegefeed Inc, which ran a personal career assistant for college students Collegefeed.com.
Collegefeed was founded in January 2013 by Indian origin entrepreneurs Sanjeev Agarwal (CEO) and Aman Khanna (chief products officer). It was a personal career assistant that helped students and fresh graduates secure employment using its free online platform.
In August 2013, Collegefeed had raised $1.8 million in seed funding from Accel Partners' Dinesh Katiyar and a few US-based angel investors, including Mark Stevens, founder, S-Cubed Capital.
California-based Collegefeed, which started as a US-centric personal career assistant for college students, had later opened its platform for students across the globe, including India.
The site is no longer active and its existing users have been automatically migrated to that of AfterCollege. Its clients would also get their brand pages on AfterCollege like they did with Collegefeed, it said on its site.
With this acquisition, Collegefeed's founder and CEO Agrawal will join AfterCollege's advisory board, while senior product team members will join AfterCollege to help guide the integration process and lead future product development.
Founded in 1996 by students at Stanford University and originally called "The Job Resource", AfterCollege is an entry-level job and internship resource that helps over half a million visitors each month.
While AfterCollege is more of a US-centric product, it also partly competes with Indian job portals like Naukri, among others.
(Edited by Joby Puthuparampil Johnson)
---