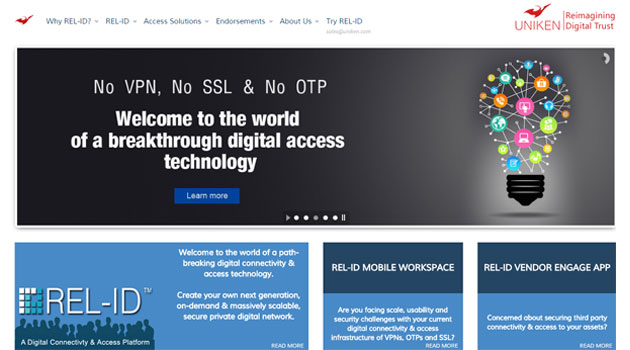 Pune- and Florida-based Uniken Inc, an enterprise security solutions firm, has raised Rs 12 crore (approximately $1.8 million) from Bangalore-based early-stage venture capital firm Exfinity Venture Partners, according to a press release.
The funds would be used to fuel its expansion plans and establish itself in the U S market by investing in people, technology, brand and infrastructure and to establish market leadership in Indian digital security space.
"Over the last year, we have made successful forays into the global markets and received endorsements for REL-ID in Israel and the US. With this partnership with Exfinity, we aim to make REL-ID a strategic asset for global enterprises to rapidly grow their digital business," Sanjay Deshpande, CEO of Uniken, said in the statement.
Uniken was founded in 2003 by Sanjay Deshpande (CEO), Nanjundeshwar Ganapathy (CTO), Prakash Salvi (director - HR, finance and quality) and Nilesh Dhande (pre-sales and customer engagement).
Uniken provides digital solutions to thwart traditional security threats for enterprises. The company's flagship product REL-ID offers a plug-and-play solution to enterprises and enables the delivery of secure digital experience across platforms and devices. It has also been adopted by Indian Defence organisations like WESEE and NSG.
The company claims it has attracted more than 2 million users who use the platform across 23 installations across India, including banks like ING Vysya Bank, Yes Bank, Axis Bank, Bank of India and State Bank of India.
Last year, the company partnered with Israel-based system integrator Bynet and also set up an office in Tel Aviv, a city on Israel's Mediterranean coast.
Exfinity Venture Partners is a Rs 125 crore-fund promoted by IT industry veterans, including TV Mohandas Pai, V Balakrishnan, Girish Paranjpe and Deepak Ghaisas.
"The increasing ferocity of cyber-attacks and the blurring of the lines between cyber security and our personal, financial and national security have led to an upswing in investment over the past two years. Uniken provides a digital connectivity and access platform that creates a private digital network of users, apps and devices. Exfinity's philosophy is to back companies that create disruption and Uniken fits the bill," Balakrishnan V, Chairman of Exfinity Venture Partners, said in the statement.
Uniken, which has operations in India, Israel and the US, had earlier raised Series A funding of Rs 30 crore from Nexus Venture Partners in January last year.
Recently, it appointed Thane Plambeck and Greg Whitehead to its board and Menny Barzilay, former CISO in the  Israeli Defence Forces, as chief security evangelist.
The company competes with EMC Corp, Symantec and Vasco.
---