Is Myntra losing out on app-only mode?
It didn't take long for 35-year old Shreya Aggarwal (name changed) to decide that her new dress for that weekend party would come through Jabong and not Myntra.
The reason: Myntra's decision to go app-only early this month.
"I wasn't carrying my Android phone the other day but just the BlackBerry device when I had to make the purchase. I do not store many apps on BlackBerry and I found it very painful to download an app just to buy a dress. Instead I went to another site which gave me a good offer and made the purchase," Aggarwal, who works at a back office outfit in Gurgaon, said.
Harshvardhan, an engineering student, believes that Myntra's product range (casual lifestyle) is such that every detail needs to be carefully viewed. "In India we do not have smooth network on the go, whether you are on 3G or 4G. Unlike gadgets where you are only bothered about specifications, with apparels you really need to figure out how the dress actually looks like, what fabric has been used and so on. This is impossible on patchy mobile networks. Thus I prefer buying products from e-commerce websites instead of apps," he said.
Myntra, which is said to generate over 90 per cent of traffic and 70 per cent orders from its mobile app, closed down its website recently and moved to a mobile-only platform. Rivals Snapdeal and Amazon do not have any plans to wind down their websites in favour of app-only usage.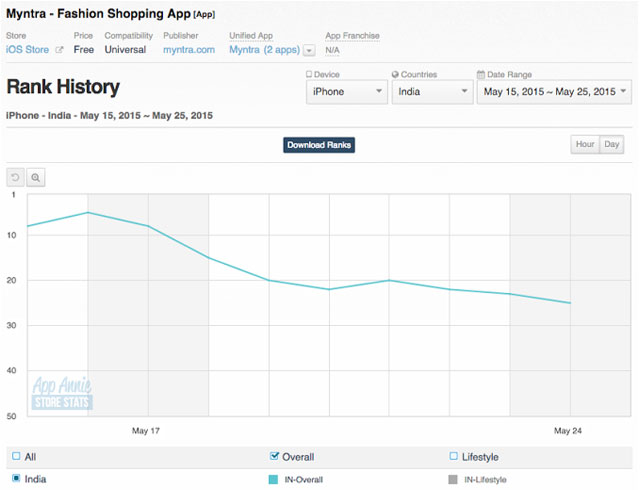 On iOS, Myntra was among the top ten apps till May 15. After it adopted the app-only approach, its ranking declined to 26.
On Google Play, the app took the 50th rank before the app-only move. Soon after the development, its rank went up to 36 before declining again. Now, the app is back in the 50-51 range.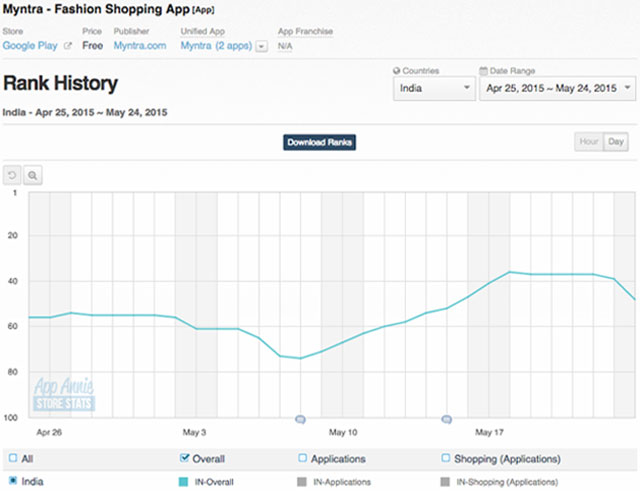 "Myntra took this decision in haste. The timing was not right to completely scrap the desktop/PC website. However, I can see that the app-only approach can help them save a lot on infrastructure by cutting down on bandwidth and requirements of adding additional servers," said Deepak Chauhan, CEO of  Vosco, a Web design company.
A recent Economic Times news report suggests that Myntra has seen a 10 per cent decline in sales following the move.
A senior Myntra official refuted the figures.
However, the company did not officially give out any statistics on this front. All indications are that it will share statistics in the next few weeks.
Earlier Techcircle.in had reported about how the ecommerce industry was amazed at Myntra's bold decision to kill its website.
Yet, most e-commerce companies believe that it is too early to adopt the app-only route in India.
However, Shailesh Vikram Singh, executive director at Seedfund Ventures said: "The initial decline means nothing, just like the first sun does not make the summer. This could be a 'five-six' months phenomenon, which is fine. Myntra's strategy is a long term one. Gradually, things will settle down. As mobile is the future Myntra is going in the right direction."
India is the second-largest smartphone market globally and the number of smartphones in use is expected to reach over 650 million in four years from 140 million last year, according to a recent study by networking giant Cisco.
On the other hand, PC sales have been on the decline, coming down by 16.5 per cent to 9.6 million units in 2014.
Comment(s)