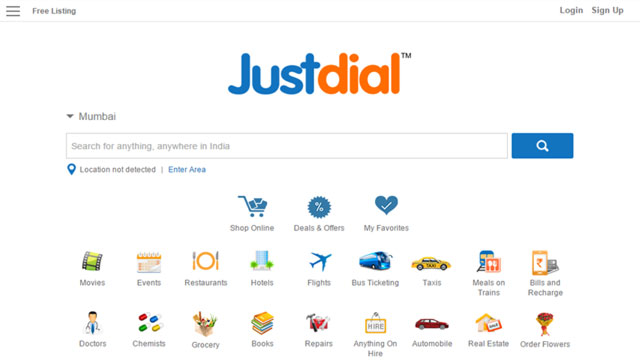 Mumbai-based Just Dial Ltd, which runs an India-specific local business listing platform Justdial.com, is planning to buy back up to 25 per cent of the aggregate of paid-up capital and free reserves of the company, to better use the pile of cash with the firm, it said on Thursday.
The board has approved the proposal to buy back shares for as much as Rs 1,550 per share. Shares of Just Dial were trading at Rs 1131.80, up 1.99 per cent at 11:35 on BSE in a strong Mumbai market on Friday.
The buy-back would be through a tender process in a proportionate basis to the shareholding pattern and is estimated to cost the firm as much as Rs 170 crore ($26 million).
Share buy-backs are an instrument to use surplus cash generated by the firm. The firm is sitting on cash and cash equivalent of over Rs 800 crore.
Interestingly, the development comes after the firm had said last year it may initiate a fundraising process possibly for acquisitions. The decision to go ahead with a buy-back means the firm did not reach any advanced stage to strike such inorganic expansion moves to deploy the surplus cash.
Calls made to VSS Mani, founder and CEO of Just Dial did not elicit any response. The company management has, however, said the decision to shelve the fundraising plan is due to lack of credible M&A opportunities as valuations have been frothy in the e-commerce sector.
Founded by VSS Mani in 1994, Just Dial is a local search firm that provides both B2C and B2B listings of small and medium businesses across the country, and provides services across multiple platforms, including the Internet, phone, wireless and print.
Lately it has been expanding its business by adding transaction services for its merchants allowing consumers to buy products and services from third-party vendors like a marketplace. With the most recent addition of products, it has become the first significant listed firm involved in product e-commerce marketplace.
It would now also compete with several players such as Flipkart, Amazon, Snapdeal, ShopClues and Paytm.
For the full year ended March 31, 2015, the company reported a 15 per cent increase in net profit at Rs 138.84 crore. The annual operating revenue increased by 28 per cent to Rs 589.80 crore over FY14.
Last month, private equity giant Tiger Global exited its investment in Just Dial for over Rs 430 crore through an open market transaction.
It also counts Sequoia Capital and SAIF Partners as its investors. All these had come in before the company went public in 2013. They have sold some of their shares since last September making stellar gains.
---