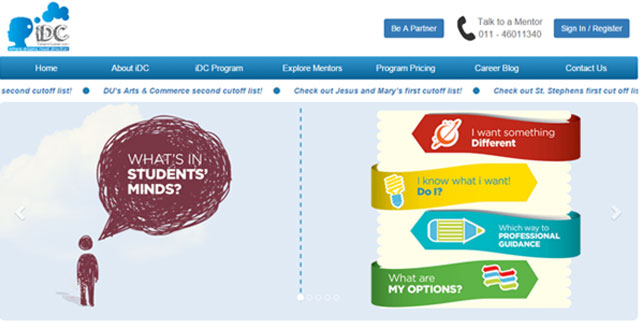 Delhi-based education technology company Medhavi Professionals Services Pvt. Ltd, which owns and operates online portal iDreamCareer.com (iDC), has raised an undisclosed sum in its second round of angel funding through ah! Ventures, with participation of Indian Designs Group and other investors.
Serial investors Vivek Joshi and Mohit Satyanand also put money in this round, as per a press statement.
iDC will use the funds for upgrading its product line and college application system. It will also use the money to add information alert tools, invest in sales and marketing initiatives and to expand in India and the Middle East.
"Our vision is to build future proof career for students through unbiased and credible career planning programmes. In the business where trust is the key element, our focus has been on providing quality career planning service to students and parents that empowers them for taking informed career decisions," co-founder Ayush Bansal said in the statement.
"Over the last year and a half, more than 55,000 students have benefited through iDreamcareer. This was achievable purely because of the trust the student and parent community has reposed in us. Over 40 per cent of the students on the platform come through referrals," Bansal added.
iDC was founded in 2013 by Pravesh Dudani and Ayush Bansal and provides students with career planning, college admission information, counselling and other related solutions.
An MBA in finance from ICFAI Business School, Bansal was earlier vice president in Prayatna-School of Excellence (Gurgaon). Dudani is an alumnus of IIT Kharagpur and had earlier co-founded GreenHat Ventures. In the past, he had worked at companies like Educomp Solutions and IndiaCan Education.
iDreamCareer.com had previously raised an undisclosed amount in seed funding from GK Sinha, former director at PepsiCo.
This would be Joshi's seventh investment. Joshi had previously invested in Kleeto, Sattviko, Deckrooster and Lovedoctor. He has also put money in social initiatives like People for Parity and Indiafellow.
Besides, this is said to be the first personal investment by Satyanand, who was behind packaged snack food brands 'Crax' and 'Uncle Chipps'. He is also an independent director at DFM Foods, Inlingua and Amrit Corp Ltd.
"EdTech has always been an interesting area for us and iDreamCareer is really disrupting the space of career and higher education planning through a combination of a hard working team, an innovative and proven business model, strong revenue pipeline and usage of next generation technology. Their global footprint makes them a leader in this space," Abhijeet Kumar, co-founder of ah! Ventures, said.
The angel capital was raised on CLUBah.com, a private equity investment platform by ah! Ventures. The network recently secured its first profitable exit from Harness Handitouch within two years of its investment. CLUB ah! has till date invested close to Rs 30 crore in over 13 startups across varies industries and domains.
The deal was solely advised and syndicated by ah! Ventures Recent investments in the education sector include that of Bangalore-based Suphalaam Technologies Pvt Ltd, owner of online education marketplace CAKART.in, which had raised an undisclosed amount in angel funding from Sunil Maheshwari and other unnamed investors.
Chennai-based Edsix Brain Lab Pvt Ltd, which runs a gamified skill assessment and enhancement platform for K-12 students, also raised an undisclosed amount in a second round of angel funding from Sprout Angels LLP earlier this week.
Recently, Info Edge (India) Ltd, which runs a slew of internet properties such as Naukri, 99acres, Jeevansathi and Shiksha, among others, invested an additional Rs 25 crore ($4 million) in Applect Learning Systems Pvt Ltd, which operates the online education and assessment venture Meritnation.
---