On-demand logistics startup Parcelled secures funding from Delhivery, Tracxn Labs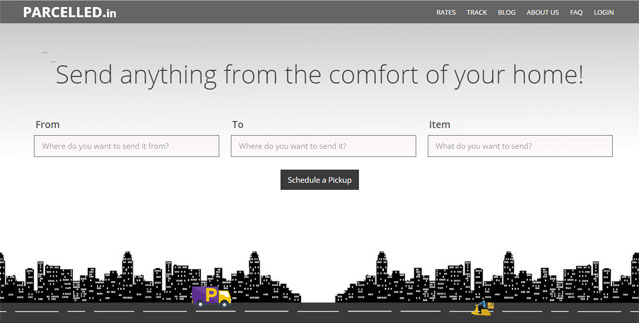 Bengaluru-based on-demand shipping services startup Parcelled.in has secured an undisclosed amount of funding from logistics firm Delhivery and Tracxn Labs, according to a press release.
The startup would utilise the money received to strengthen its technology and back-end infrastructure. The company will also use the funds to expand services to at least eight cities over the next six months, it said.

"As more and more goods and services are consumed from the comfort of home, first mile logistics will become a critical piece of the puzzle. We were amazed by the team's passion in solving this and the progress they made in a short span of time," said Abhishek Goyal, founder of Tracxn.
Founded in January this year by Xitij Kothi, Abhishek Srivastava, Nikhil Bansal, Prateek Bhandari and Rikin Kachhia, Parcelled has a team of 150 persons and is operational in Mumbai and Bengaluru.
It provides courier services by letting users schedule a pick-up within 30 minutes for delivery anywhere globally. The startup also takes care of packaging and paperwork, it said.

The on-demand shipping services provider claims that it has scaled up from 20 orders a day in April to 1,000 presently. It works with 150 pick-up agents. The company has partnership with e-commerce logistics firm Delhivery as well as other courier partners like FedEx and DHL to ship the packages.
It plans to expand to 8-10 cities in two months.
"We are thrilled to partner with Parcelled's dynamic and talented team as it builds out a world class scalable platform that helps consumers simplify package movement," Delhivery's CFO Ajith Pai said in the statement.

Other startups in the on-demand courier delivery space are Sendd, ShipEasy and Pigen.
Gurgaon-based e-commerce logistics firm SSN Logistics Pvt. Ltd, which operates under the brand Delhivery, had recently raised $85 million in Series D round of funding led by Tiger Global with participation from existing investors Multiples Alternate Asset Management, Nexus Venture Partners and Times Internet Ltd.
Data analytics firm Tracxn, which had recently raised $10 million from Flipkart founders Sachin Bansal and Binny Bansal, claims to have 7,000 startups and close to 21,000 companies in the US registered with its database.

Tracxn recently put money in Bengaluru-based marketplace for beauty services Glow Prime Technologies Pvt Ltd, which operates under the brand name StayGlad.
According to market research firm Research and Markets, the Indian logistics industry is expected to grow at a compounded annual growth of 12.17 per cent by 2020 driven by the growth in the manufacturing, retail, FMCG and e-commerce sectors. India's third-party logistics (3PL logistics) is expected to be worth $301.89 billion by 2020.
Full service logistics providers are also attracting money. Private equity firm Warburg Pincus committed to invest over Rs 850 crore ($133 million) in Delhi-based e-commerce focused logistics solutions provider Ecom Express Pvt Ltd. This is the biggest ever PE funding in rupee terms in India in the logistics sector and the second-largest in dollar terms. In 2011, a fund under Franklin Park Management bought

Bangalore-based Vikram Logistic and Maritime Services Pvt Ltd for $152.57 million, according to VCCEdge, the data research platform of VCCircle.
---