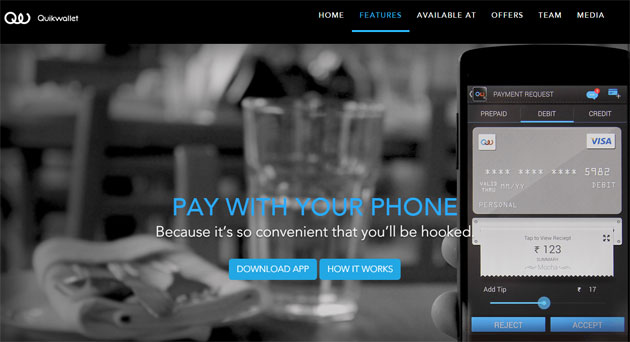 LivQuik Technology (India) Pvt Ltd, a Mumbai-based startup that owns mobile payment service QuikWallet, has raised $1.6 million in a follow-on funding from its existing investor Snow Leopard Technology Ventures, a venture capital fund that provides seed capital to the internet and technology businesses in India.
The funds raised in this round will be used for expanding team and increasing merchant base.
LivQuik is the payments technology venture behind QuikWallet, a mobile app that enables customers to pay at retail outlets and restaurants directly from their smartphones.
Following the latest round of funding, QuickWallet has raised $2.1 million in total and is now looking to raise $5 million in Series A round of financing.
QuikWallet is currently available on Android and iOS. It stores the customer's card information, locks it securely with a passcode and let him/her pay with one or two taps.
QuikWallet claims to be India's first mobile payment app for smartphones that works with technologies like near field communication (NFC) and quick response (QR) codes.
With a Gross Transaction Value (GTV) of Rs 50 Lakh per month, the startup has linked about 1,000 restaurants and small merchants in different categories such as small neighbourhood stores, florists, education institutions and car service centres, to its platform.
The platform provides merchants with options like SMS, NFC, QR codes, Web/Mobile Apps and a POS software integrated approach to help collect payments both offline as well as online.
"The line between online and offline is blurring with offline merchants wanting to sell online and vice-versa. On the other hand, banks need to compete with mobile wallets and have to provide a similar solution for their customers. We have expanded our offering to customers whether they transact online or offline, where we work with banks as issuers on our platform," LivQuik's co-founder and CEO Mohit Lalvani said in a statement.
The company was co-founded by Lalvani, Yudhajit Nag Sen (CTO), Vinay Pinto (vice-president – technology) and Suma Bhattacharya (advisor) in April 2012.
Lalvani earlier worked at companies such as Kabuza Marketing, Viacom 18 Media and Webaroo, and holds a B Com in Business Management from University of Mumbai. Sen worked at CosyTech and Naaptol, and holds a BE in Computer Science & Engineering from Don Bosco Institute of Technology, Mumbai. Prior to LivQuik, Pinto was working at Accenture. He also holds a BE degree in Computer Science & Engineering from Don Bosco Institute of Technology, Mumbai. Prior to LivQuik, Pinto was working at Accenture; he also holds a BE in Computer Science from the University of Mumbai.
---