UrbanPro, an online marketplace that connects users with local service providers, expects to double the number of service requests handled on its platform to 100,000 by the current-year end.
Powered by Nirvana Ventures' recent funding commitment of $2 million (Rs 12 crore), UrbanPro seeks to expand tentacles in verticals such as event planning, photography, interior designing and health & fitness in addition to education, which has been its traditional stronghold.
The company, which is run by Bangalore-based ThinkVidya Learning Pvt Ltd, presently addresses 50,000 service requests.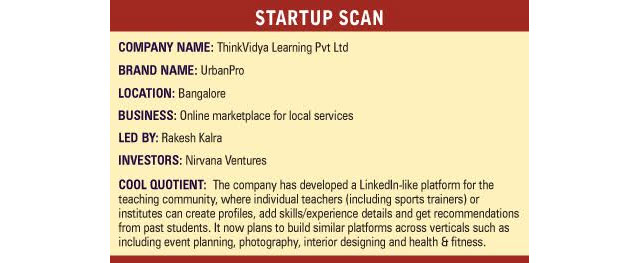 "We were primarily focused on the education vertical, but we realised that there's a greater need for a broader local services marketplace. That's when we decided to support different verticals. Right now, we are making sure that the new verticals get enough depth before we touch additional ones," said Rakesh Kalra, founder and CEO of UrbanPro.
UrbanPro is growing at 20 per cent month-on-month in terms of queries, Kalra said, adding that over 50 percent requests come from direct channels. The company wants to up the provider-response-to-transaction conversion rate to 10 per cent from five per cent currently, he added.
Kalra founded the company as Think Vidya in 2011 and later rebranded it to UrbanPro in a bid to expand into other verticals. The company started with a LinkedIn-like platform for the teaching community, where individual teachers (including sports trainers) or institutes can create profiles, add skills/experience details and get recommendations from past students. It also caters to non-academic services such as hobby classes for music, dance, arts and cooking. Now, the idea is to provide a similar platform where photographers, event organisers or others can do the same to connect with service seekers. When a customer posts a specific service requirement, the portal connects him/her with the relevant provider.
The new services are presently offered only in Bangalore and Mumbai. Delhi and Chennai are on the company's radar for expansion.
UrbanPro monetises its services using a cost-per-lead model. While it doesn't facilitate transactions on the portal, the company takes a fee to connect a service professional with the consumer. For example, when a consumer searches for a wedding photographer, UrbanPro connects the user to the professionals who can provide that service. Whoever responds to the query pays the company a commission through the virtual coin currency system.
Does UrbanPro's business model entice investors? "A service that allows professionals to showcase their customer's references sounds interesting. But the challenge would be for it to gain enough user-adoption to make it a go-to destination for those looking for a service provider," said Ajeet Khurana, an entrepreneur turned angel investor.
"I fear that there may not be any significant opportunities to differentiate this startups' value proposition from, say, setting up a Facebook page for the service you want to provide. If, however, the entrepreneurs manage to generate enough user interest such that adoption becomes viral at some stage, then there is a future for this startup," he added.
UrbanPro had raised an undisclosed amount in seed funding from US-based serial entrepreneur Raman Sud in January 2014.
Post the rebranding, around 1.3 million users are flocking its platform every month, the company claims. Over Fifty per cent of its traffic is driven by Mobile Web and Android mobile app. The iOS app is expected to be released sometime later this year. Currently, the company has over 300,000 professionals listed on the site and a consumer community of 500,000.
Kalra has over 14 years of experience with different internet startups in the US. Prior to starting this company, he was VP (technology) at Care.com. Kalra holds a master's degree in Computer Science from Boston University and a BE degree from PEC University of Technology, Chandigarh.
---