Social wellness app builder Zoojoo.be raises $1M from RoundGlass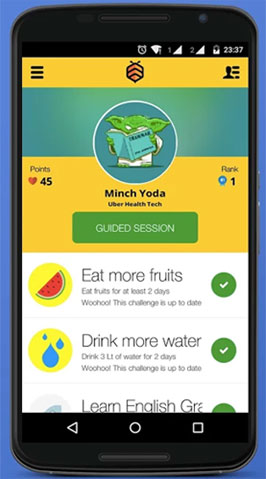 Uber Health Tech Private Ltd, a startup that builds social wellness apps for corporate staffers under the brand Zoojoo.be, has bagged $1 million (Rs 6.4 crore) in series A funding from US-based VC fund RoundGlass Partners.
Avinash Saurabh, co-founder and CEO of the IIM Bangalore-incubated Zoojoo.be, said the company will use the money raised for hiring experts in the area of behavioural science and product development.

Till now, Zoojoo.be was being run by a team of eight staffers including co-founders Anandraj Koormapolu and Moovendran A, in addition to Saurabh.
"With the increasing cost of care, the need of the hour is to shift focus from curative healthcare to preventive healthcare and wellness. I believe that Zoojoo.be's wellness app with its behavior changing approach will help users bring a positive change in their habits," said Gurpreet Singh, founder, RoundGlass Partners.
Founded in August 2013, Zoojoo.be had raised undisclosed seed capital in May last year from a group of investors including K Srikrishna, former executive director of NEN; Bikash Chowdhury, global head of digital marketing at InMobi; M Chandrasekaran, director of Manipal Health Enterprise Private Ltd; and Rajagopal G.

Zoojoo.be attempts to bring about behavioural changes in users and help them cultivate healthy diet habits through fun games between co-workers. The company claims that its platform has over 35,000 users across clients such as Mindtree, Unisys, GE and others. It has operations in India and the UAE.
With Zoojoo.be, employees can pick customised health challenges. They can also keep a track of their activities using its online tracking interface, and earn points. Users can also build a team by adding their friends at work to their profiles.
For RoundGlass Partners, a Seattle-based venture firm that focuses on healthcare startups, this is the second investment in India. This funding comes three weeks after it partnered with Flipkart co-founders Sachin Bansal and Binny Bansal, and Fortis promoters Malvinder Singh and Shivinder Singh, to invest $2.3 million (Rs 15 crore) in medical technology startup Wrig Nanosystems.

---