Movie streaming startup Spuul tweaks strategy; claims 1M users

Mobile-first video steaming platform Spuul has shifted its revenue model by reducing advertisements on its site and focusing more on subscriptions, Spuul India CEO Rajiv Vaidya told Techcircle.in.
Vaidya, who took over as the head of the India business in March last year and directly takes care of brand and ad sales for the property, claims that Spuul is one of the few sites that do not have banner ads as well as pre-roll ads that appear before the start of a video.

"Around 90 per cent revenue comes from subscription. We offer various formats ranging from a daily basis to weekly as well as monthly. One can watch a film for as less as Rs 10 or can avail monthly subscription at Rs 300," he said, claiming that Spuul has a paid subscriber base of 1 million users per month.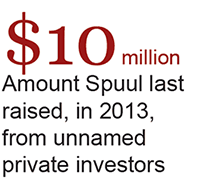 The company claims to have recorded 4 million downloads across platforms like Android and Apple's iOS, and about an equal number of registered users.
The firm has tied up with online payments firm Paytm to enable users to make micro-payments in a bid to boost subscription revenue.

Singapore-headquartered Spuul Pte Ltd, which went live in India in April 2012 with an offering aimed at Indians around the world, competes with Reliance Group's BIGFlix, Times Internet's Box TV and Eros Now, among others.
On the content side, the firm is focusing to boost its movie library as against television content and is looking to add more regional flicks. It plans to increase the number of movies to 2,500 from 1,000, bulk of which would be regional-language films. Currently, regional-language flicks comprise just one in four in the movie library but Spuul aims to make it an equal mix of Hindi and local-language offering.
"We are not looking at increasing television content acquired from broadcasters. Currently, TV content is only 10-15 per cent," said Vaidya.

The company also plans to reduce the gap between a film's theatrical and online release. "We did manage to do this in case of a few films such as Detective Byomkesh Bakshy, which was released on Spuul within four-five weeks of its theatrical release," he said.
Spuul is looking to raise fresh funding to fuel growth and get into content creation. It last raised $10 million in 2013 from unnamed private investors.
The company is evaluating options to create exclusive content for the site. "From web series to films to soaps, we have many options," Vaidya said. He did not share details on the proposed fundraising. Two years ago, Spuul's global CEO had told Techcircle.in that the firm was looking to raise $20 million.

---