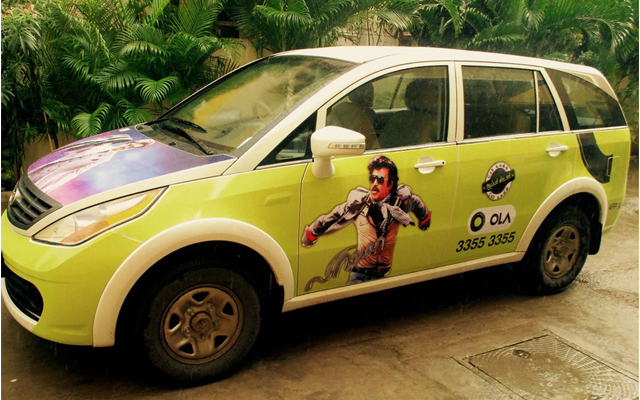 Ola Share, the carpooling service from taxi aggregator Ola, is now operational for select users in Bangalore.
Ola Share is the country's first facility that gives users the option of sharing rides with familiar people, Ola said in a statement.
Most ride-sharing services require users to travel with strangers.
Ola plans to launch its car pooling feature in five more cities over the next three months. Up to three users can share a cab with Ola Share.
"With Share, we not only bring economy, convenience and comfort of traveling with people in your circles, but also increased inventory utilisation of vehicles on the platform," said Ishan Gupta, head of Ola Share. "Ola Share is a major step in the direction of sustainable transportation, allowing us to serve more people at a fraction of the cost, with driver-partners benefiting from increased revenue," he added.
To enable the social aspect of Ola Share, Ola has introduced the concept of social groups that users can create with office colleagues, college friends or others. A user can join multiple groups and choose who they wish to share rides with. They can also travel with unknown people who are commuting on the same route. As an introductory offer, customers can use Ola Share for a fare of Rs 50 anywhere in Bangalore, Ola said.
Techcircle.in had reported on September 23 that Ola was piloting its carpooling service, after Meru and Uber announced similar offerings.
Though there are a number of ride-sharing apps in the market, Meru Cab Company Pvt Ltd – one of India's oldest radio taxi firms – was the first taxi company to venture into this nascent but highly advocated business when it launched its carpooling service early last month.
UberPool, Uber's ride-sharing service that was announced last month, is also operational in Bangalore. Uber claims its carpooling option is cheaper than using and maintaining a personal car. The company said that the rides, available only to UberGo customers, will cost up to 35 per cent less than standard UberGo trips.
Among other companies, online travel group Ibibo had launched a carpooling app named Ryde in April.
WestBridge Capital-backed Carzonrent India Pvt Ltd, which runs radio cab services besides offering self-drive car rental and fleet management services, recently acquired Bangalore-based 42 Solutions Pvt Ltd, which runs a ride-sharing app RidingO.
Online carpooling venture BlaBlaCar, backed by Accel Partners and Index Ventures, forayed into India in January while Rocket Internet-backed carpooling firm Tripda entered the country last year.
Ola, which is backed by marquee names such as Falcon Edge Capital, Tiger Global Management, Japan's SoftBank and China's Didi Kuaidi, aims to cover 200 cities by the year-end.
Ola claims to complete more than 750,000 daily rides in the country while Uber claims to offer around 200,000 rides.
Ola has set an ambitious target of reaching one million drivers on its platform in three years. Currently, it has about 100,000 drivers, a number that has grown from 10,000 a year ago.
---