Snapdeal said on Monday that Shopo, its recently launched 'zero-commission' mobile-based marketplace, has crossed the one million mark for active product listings.
Launched in July, the Shopo app has been downloaded about 200,000 times, the company said.
There are about 20,000 listed shops on the platform.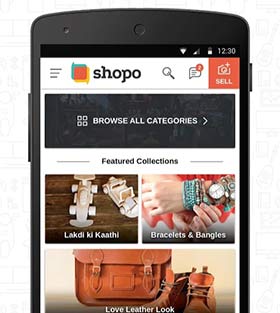 The Shopo platform is pivotal to Jasper Infotech Pvt Ltd-owned Snapdeal's strategy of getting one million merchants online by 2017.
"Shopo is a key pillar of the digital commerce ecosystem that we are building to achieve this vision. The rapid adoption by micro and small sellers in a short span of three months is a great validation of the Shopo model. Shopo is well poised to unleash the next wave of e-commerce in India," said Kunal Bahl, co-founder & CEO of Snapdeal.
Shopo, which competes with the likes of Quikr, Olx and Paytm, allows individuals to become sellers at the click of a button for both new and used goods. It enables merchants to directly chat with prospective customers and close transaction by agreeing on a mutually convenient mode of delivery. Shopo allows a prospective seller of say, niche cakes or candles, to advertise their products to a shopper who is unsure of what he/she is looking for.
Snapdeal had acquired Shopo in 2013 from Theygarajan S. However, it was kept in stealth mode.
Currently, the app offers 14 categories, including accessories, men & women apparels, beauty & cosmetic and electronics. Last month, Shopo had launched a peer-to-peer chat functionality that allows users to exchange views with friends before conducting a transaction.
Flipkart was the first Indian e-commerce venture to add a social networking layer to online shopping. In August, Flipkart launched Ping, a chat feature that allows users to share product images and chat with friends while shopping on its mobile app.
---