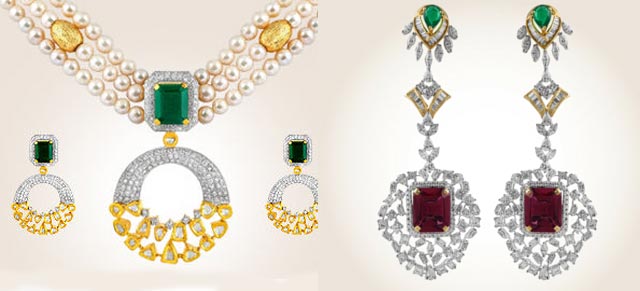 You can rent a designer dress, even a luxury car, to attend a wedding or a party. So what stops you from hiring the perfect piece of jewellery to go with that? Lack of options, you may say.
A Mumbai-based startup has stepped in to fill that void. Eves24.com, run by Akhuratha Lifestyle Services Pvt Ltd, rents out authentic gold and diamond jewellery against a security deposit.
"Women do not want to repeat the same four or five pieces of jewellery they own on every occasion. There was a huge demand for variety, but no easy solution. That's when I thought about starting an online jewellery rental business," says Rahul Banka, founder of Eves24.com, and a chartered accountant.
Banka launched the website in July this year after quitting his job with Centrum Capital Ltd in 2013 where he was VP - investment banking. He has bootstrapped the venture.
How it works
Eves24, which claims to be the first in this space, currently offers rental as well as purchase options to customers in Mumbai.
Under its Jewel Library Services, customers give a security deposit in the form of an annual subscription, which is 110 per cent of the membership value. Eves24 also charges a usage fee which is 5 per cent of the value of the jewellery.
Currently, there are four membership plans -- Rs 1 lakh, Rs 2 lakh, Rs 5 lakh, and Rs 10 lakh. Eves24 claims it currently has more than 90 subscriptions.
With Easy Jewel Service, customers can buy authentic jewellery on easy EMIs. The customer is handed over the jewellery on payment of the first EMI.
For both the services, the customer gives Eves24 the lien to a fixed deposit.
"Giving us the right to the FD as a security works well for both the customer and the company. The customer continues to earn interest on the fixed deposit and also takes advantage of the services offered by us throughout the year," Banka said.
Investor interest
The renting space has recently seen the advent of startups such as Klozee and Luxemi which rent out designer apparels and accessories, offering a viable option to customers who may want to indulge in an outfit or accessory for a short period. Klozee recently raised seed funding from startup incubator Tracxnlabs.
However, experts say it is too early to expect investor interest in the jewellery rental space.
As angel investor Ajeet Khurana says, angel investors and propriety funds may be the only ones interested. "Right now the numbers are too small to attract institutional investors. If Eves24 can scale it up, and identify the purchase trends it can attract big investors as well," he adds.
He says the model is suitable for select audiences. "Given that these are high value goods, they can do sizeable transactions, but the question is whether people will rent original jewellery," says Khurana. "This startup is focussing on certain changes in customer behaviour and purchase patterns. It is taking a big bet."
However, offering interest-free EMIs is a step in the right direction, he says.
Customers connect
Meanwhile for Mumbai-based image consultant Rashida Kapdia, the startup is a big help with the wedding season approaching. "Spending Rs 5-10 lakh on a set that I can wear only once or twice does not make sense. So this is an interesting and convenient concept," she said.
The coming wedding season will tell whether Eves24 can attain a sparkle of its own.
---