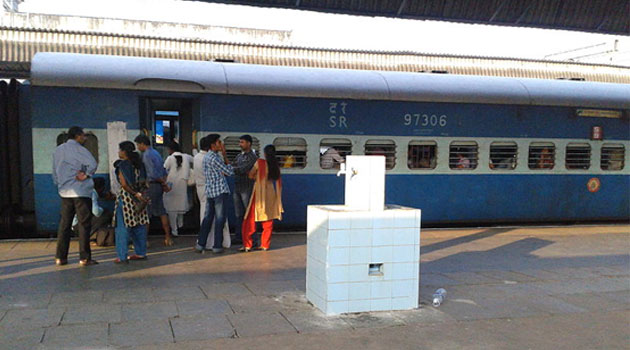 Soon, you would be able to use Foodpanda's service to order meals from your favourite restaurant while waiting to board a long-distance train.
The Rocket Internet-owned food ordering marketplace has tied up with state-run Indian Railway Catering and Tourism Corporation (IRCTC) to deliver meals at railway stations.
Users can place their orders through the IRCTC website or the Foodpanda app and website.
Foodpanda will deploy its delivery fleet to fulfil orders, it said in a statement.
"For long, consumers had limited food options to choose from while travelling with Indian Railways but the newly launched e-catering service by IRCTC is set to change the way Indians eat while travelling," said Saurabh Kochhar, CEO of Foodpanda.
IRCTC initiated a pilot project to provide e-catering services at 45 railway stations in October. The station-based 'Food on Track' service expands the train-based e-catering service, which was announced in the 2015-16 railway budget to enable passengers to book and receive meals at their berth while traveling.
Foodpanda said that, under its tie-up with IRCTC, a pilot project will be launched at New Delhi railway station. The tie-up will be later extended to cities such as Mumbai, Bangalore, Pune and Chennai.
Users have to order meals at least two hours before the scheduled arrival or departure time of their train as the delivery will be aligned with the train's schedule. Foodpanda would also provide the cash-on-delivery option.
Recently, Hyderabad-based Red Sprout Foods Pvt Ltd, which operates a quick-service restaurant chain for Indian fast food and pushes its home delivery service under the Hello Curry brand, had announced a tie-up with IRCTC to deliver meals from the company's restaurants.
Founded in April 2012, Foodpanda features location-specific listing of restaurants on its site. Users can check out menus, along with special offers, after which they can order and get food delivered to their homes. One can also search for restaurants according to cuisine, and/or by other parameters such as vegetarian/non-vegetarian, and healthy food.
Foodpanda had raised $100 million in funding led by global financial services giant Goldman Sachs in May. That round took the total funding raised by Foodpanda to $310 million. The company has been revoking restaurants every month as it deals with allegations of operational irregularities.
Rocket Internet's core model is to replicate successful global internet businesses in emerging markets outside China with rigorous marketing. It brings in industry executives, gives them stakes in its companies and designates them as co-founder/founder/CEO. Most of its portfolio companies have multi-geography operations.
---