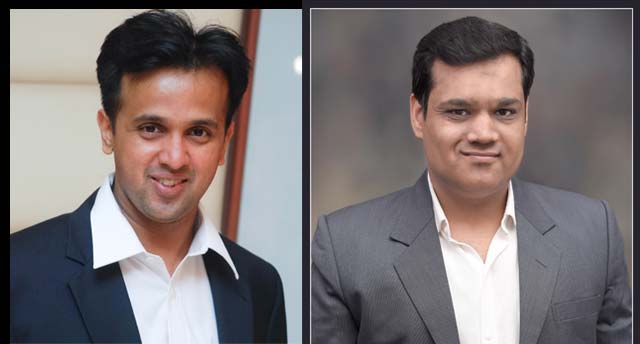 Raj Ramaswamy(left), co-founder, ShopInSync and Ashish Parnami, CTO &  co-founder, ShopInSync
This Diwali when India witnessed another season of online festive sales orchestrated by the three e-commerce giants -- Amazon, Flipkart and Snapdeal – Arundhati Pratap, a Noida-based lawyer had a hard time shopping. Not only did she have to hop from one e-commerce site to another to get the best deal, but she could not consult with friends and family and had to depend on her instincts to make the final decision.
While the advent of e-commerce players has made shopping much more convenient, real-time conversation with friends or relatives while shopping on an aggregated platform has been absent, making online shopping a lonely pursuit.
Two former employees of Yahoo! plan to change that. Raj Ramaswamy, former product management and revenue executive at Yahoo! and Ashish Parnami, former product and engineering leader at Yahoo! have come together to build a mobile app that "brings the entire shopping experience under one roof".
"With the e-commerce sector booming and expanding, we realised that consumers have multiple options to choose from when it comes to online shopping. What we also comprehended is most of these purchases are done in consultation with friends and family. So the idea behind ShopinSync is to bring these two worlds together and make online shopping a more convenient process for the shoppers," Raj Ramaswamy, co-founder, ShopInSync, told Techcircle.in.
The app went live earlier this week.
How it works
Based on the user's browsing pattern, the app recommends and curates millions of products across 12 major categories which include fashion, kids, electronics, mobile or tablets, home goods and appliances.
The customer then compares products between e-commerce sites and shares the product details with friends and family while trying to zero in on a product through an integrated messaging service in the app.
Money matters
Asked how the company plans to monetise, Ramaswamy explained that ShopInSync is monetised through an affiliate partner. For example, if a customer buys from Flipkart or any other player, then these companies will pay ShopInSync a referral fee.
"Down the line, we will look into additional forms of monetisation, like premium branded placements, relevant product listing advertisements among other forms," said Ramaswamy.
Headquartered out of San Francisco, ShopInSync Inc was initially bootstrapped when it was founded in July 2015. It has a regional office in Bangalore.
The company recently raised an undisclosed amount from US-based investors including Baharat Vemuri, vice president of cloud platform at Yahoo!, and Vijay Ragavan, co-founder of San Francisco based startup Jabber Labs. "We will invest further to make sure users can get a personalised, relevant and collaborative experience," Ramaswamy said.
Competition
To be sure, there are several players having comparable models. Yebhi.com offers apparel and lifestyle accessories from multiple third party online stores. Again, sites such as Voonik and BuyHatke curate fashion merchandise from online shopping stores like Jabong, Fashionara, Fashionandyou, Yepme, Zovi and others.
Flipkart also offers a feature called Ping, which enables users to chat and share images and emoticons with friends and family members who also use Ping.
However, Ramaswamy claims that ShopInSync is the first portal that combines the benefits of an aggregation site with that of a Ping-like feature. As of now, the app aggregates products from the three biggies and the company is in the process of roping in several other e-commerce players like Infibeam and Yepme.
Ramaswamy also added that they are planning to provide a platform for offline retailers to sell their products online using their marketplace.
Vikram Upadhyaya, chief mentor and accelerator evangelist at GHV Accelerator, while agreeing that there is an opportunity in this space, warns that aggregation is a tough market to invest in.
"There are already players that are doing e-commerce aggregation. For any startup which plans to enter this space, if it does not use technology to solve the big grey area, it is going to be a nightmare for it," he said.
GHV has invested in startups such as FitMeIn, PickMyLaundry, MyTaxiIndia, LazyLad and FoodPort. As an angel investor, Upadhyaya has put in money in LogiNext (which recently raised $10 million from Paytm), Druva Software and OrangeScape among other firms.
Meanwhile, Pratap is glad that she can now compare prices from multiple e-commerce sites under one roof and simultaneously consult her family and friends online to make it a happy purchase.
---