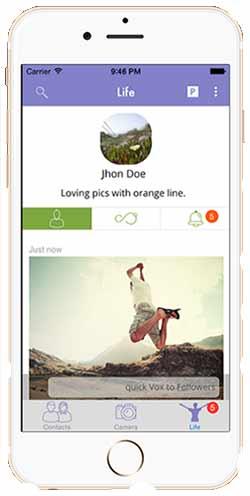 VoxWeb, a social networking app that allows users to attach an 11-second audio clip to any image, has raised $350,000 (Rs 2.3 crore) in funding from an undisclosed investor.
VoxWeb, which is run by Mumbai-based VoxWeb Pvt Ltd, will use the funding to refine technology and add features to its iOS and Android apps, a statement said.
In August 2015, the company had raised seed funding of $100,000 from CitrusPay co-founder Jitendra Gupta.
VoxWeb allows users to interact using 'speaking pictures' or images with voice clips attached to them. The app also features a social network called 'Life' which allows users to build their network and share images.
VoxWeb, which was founded in June 2014 by Yash Mishra, has a team of seven people. Before starting the firm, Mishra, an alumnus of IIT Kanpur, worked as an analyst with JP Morgan.
The firm has launched the app in North America, South America, Europe, Indian subcontinent and Middle East.
The social networking space is ruled by global giants such as Facebook, Twitter and Instagram.
---