Blume Ventures raises $30M to mark first close of new fund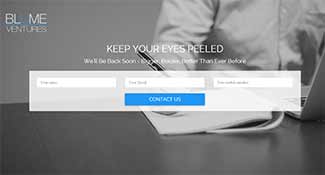 Mumbai-based seed-stage venture capital firm Blume Ventures said on Friday it has raised over $30 million for its second fund to mark the first fundraising milestone.
The fund has an overall target corpus of $60 million. Its second and final close for Fund II is expected next quarter.

The first close was led by ICONIQ Capital with participation from IIFL Wealth and the government's India Aspiration Fund, administered through Small Industries Development Bank of India, among others.
ICONIQ Capital is a global family office and merchant bank for a group of influential families.
Blume expects to make 35-45 investments from this second fund. "Blume will continue to invest in the domestic consumption and SME story as well as its belief in Indian engineering prowess," it said in a statement.

Blume had initiated fundraise for a $50 million new fund in early 2014 and decided to increase the size later. It had expected to close the fundraising in the first quarter of 2015 but got stretched.
Blume has so far funded about 75 startups such as MockBank, IDfy, GreyOrange, RailYatri, RoadRunnr and Zopper
Karthik B Reddy, managing partner, Blume Ventures, had 
told
 VCCircle the investment strategy for the new fund recently. "We are huge believers in domestic consumption but (it should be) mobile first. Consumer, small business and mobile first—that is the domestic story. But we are not afraid to invest in other areas such as SaaS, cross-border, deep technology, energy efficiency, robotics, medical devices, etc. About 40-45 per cent will be in such areas."
So far, the VC firm has been investing $100,000-$250,000 (Rs 60 lakh to Rs 1.25 crore) in each portfolio firm, participating in seed rounds where the typical overall size (including other investors) was $300,000-500,000.
"We will write larger cheques—close to half a million (dollar)," Reddy had previously said. "In the first fund we used to do $200,000 (Rs 1.3 crore) seed investment in each portfolio company. We will write $400,000-$500,000 (Rs 2.6 crore-Rs 3.3 crore) now on...Valuations have gone up, teams are getting better and we want to put more money." he had added.

Blume's debut fund raised Rs 100 crore in 2011, or around $20 million then. It has so far funded about 75 startups such as MockBank, IDfy, GreyOrange, RailYatri, RoadRunnr, ReGlobe, Tookitaki, Purplle, Zopper and NowFloats.
Recently, Blume, along with other investors, backed Chillr, a peer-to-peer money transfer and recharge app. It also invested an undisclosed sum in a pre-Series A round into Gurgaon-based Zenatix Solutions Pvt Ltd, an Internet of Things (IoT)-based energy management startup.
Last month, Blume participated in a pre-series A funding round raised by Signure Technologies Pvt Ltd, which runs Bangalore-based event marketing and ticketing platform Explara.

Blume had good exits in the past year as four of its investee companies—TaxiForSure, Promptec, ZipDial and 1Click.io—got acquired by Ola, Havells, Twitter and FreshDesk, respectively.
---