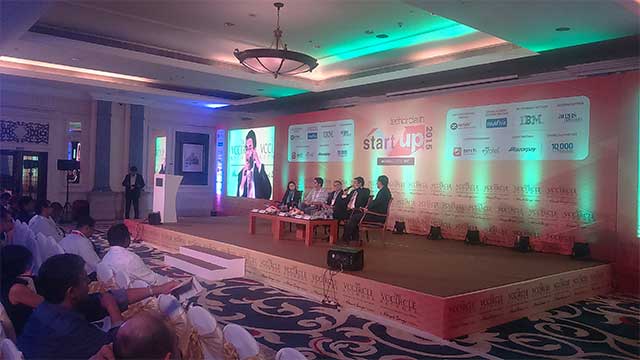 The current slowdown in funding for mid-market and growth-stage deals will eventually make startups more capital efficient, according to industry executives who attended Techcircle Startup 2015 in Mumbai.
"In a way, a mid-market correction is good because it helps in cleaning up the startup ecosystem," said Sanjay Nath, co-founder and managing partner of seed-stage venture capital firm Blume Ventures.
The ecosystem will mature and disciplined startups will do well even during such episodes, he added.
Mumbai-based Blume recently raised marked its first close of $30 million for its second fund to invest in technology startups.
Sairee Chahal, founder of Sheroes.in, said the ongoing slowdown will propel startups to take a hard look at their spending patterns. "Founders must ask themselves: Am I building something which people want to be part of?" Sairee added.
Midlife crisis for funded startups
As per VCCEdge, early-stage venture investments remain strong but Indian startups face a challenge with mid- and late-stage VC funding drying up.
Investors are getting cautious on pegging ever higher valuations on firms without a clear visibility on revenue or operational growth. Moreover, VC firms seem to have raised the bar when it comes to signing cheques for already funded startups.
Fiscally disciplined companies, which differentiate themselves by solving real customer problems, will find takers even in choppy markets, said Anupam Mittal, founder and CEO of People Group.
Pradeep Tagare, director at Intel Capital India, felt that the ability to figure out the most prudent way of spending capital differentiates a successful company from the me-too players. Intel Capital has invested almost $9 million on 'paper plans' as the VC firm lays more impetus on the credibility of the team and the idea driving the founders.
Corporate governance, advisers
Krishnava Dutt, managing partner at law firm Argus Partners, said that startups with strong corporate governance and transparent management practices will always be in vogue. He advised startups to be well-versed with all regulatory aspects pertaining to the running of a company. "It's only when there are adverse developments that most founders go back to study their term sheets/agreements," Dutt added.
Industry executives also reiterated the need to have sound advisers on their boards. "Make a wish list of advisers and find ways to reach out to them. That is how we function," said Namrata Bostrom, co-founder and CEO of PoPxo.com.
Sameer Pitalwalla, CEO of Culture Machine, said entrepreneurs who failed multiple times before making it big are the best advisers to have on board. "Such advisers feel our pain and they bring a lot of value to all real-life situations that startups go through," said Pitalwalla.
---