Asus launches ZenWatch2 starting at Rs 11,999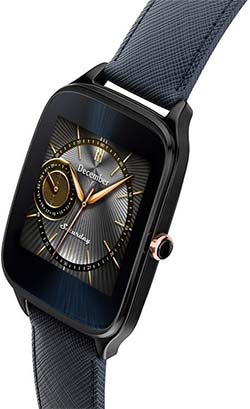 Taiwanese technology giant Asus on Tuesday launched ZenWatch2, a sleek and elegant successor to the original ZenWatch, in India to take on rivals such as Apple Watch and Motorola's Moto 360.
The new smartwatch's claim to fame is that it delivers a solid android experience for half the price of the competition. The ZenWatch2 sports an AMOLED touch display and runs on a Qualcomm Snapdragon 400 processor with 512MB of RAM and 4GB of internal memory. It is available in two sizes, 1.45-inch (WI502Q) with a screen resolution of 280X280 pixels, and 1.63-inch (WI501Q) with a screen resolution of 320x320 pixels, for Rs 11,999 and Rs 14,999, respectively.
The smartwatch is currently available on Flipkart and will be later sold at exclusive stores of Asus.
So what is ZenWatch 2?
The ASUS ZenUI integration offers a host of smart assistance features to users. For instance, you can control the smartphone's camera through viewfinder preview, gesture shutter and timer shutter. You can even mute an incoming call on the smartphone by simply covering the ZenWatch with your hand.
The Asus ZenWatch2 offers a host of fitness-related features. You can keep a track of your fitness progress with the wellness app. You can even calculate and set the duration, distance, or calories burned as your goal and be notified once you have reached your goal.
Asus claims the battery of the new smartwatch lasts up to two days on a single charge.
While the bigger version comes with a 22mm rubber or leather strap, the other device comes with an 18mm leather strap. The watch can also handle dishwashing to brisk swimming sessions, thanks to its IP67 water and dust resistance.
How it is different from its predecessor
Unlike the older model, Asus ZenWatch2 comes in two variants. The bigger model has a 400 mAh battery, compared with the 300 mAh on the smaller version. Another big visual difference is the addition of a small metal crown that can be used to interact with the device.
Another welcome addition in the latest series is the Wi-Fi connectivity option.
While the original device had an IP55 rating, meaning it could handle a few splashes, the new watch has an IP67 rating, which means it is suitable for a brisk swimming session and can withstand immersion in water in up to one metre depth for up to 30 minutes
It is the value proposition that really stands out for Asus ZenWatch2, as the smartwatch delivers reasonable good looks and features at half the price of the competition in the market. The Apple Watch costs around Rs 32,000 while the Moto 360 (2nd generation) costs around Rs 20,000.
So, if you are a first-time smartwatch buyer or looking for an android wear without spending a lot, the ZenWatch2 is what you should definitely consider.
Comment(s)