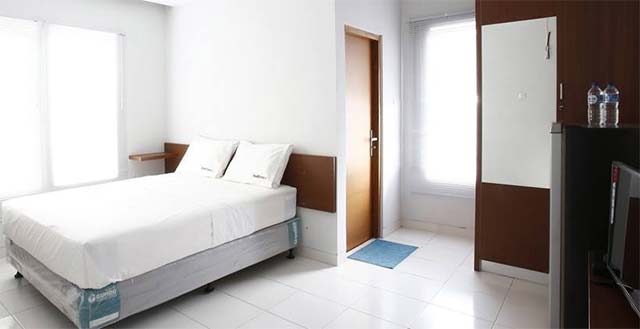 RedDoorz, a Singapore-based budget hotels aggregator founded by Indian-origin entrepreneurs, has raised an undisclosed amount in pre-Series A funding from accelerator-cum-venture capital fund 500 Startups.
The startup will use the money raised to expand its offerings across key markets in South East Asia, it said in a statement.
"We are thrilled to be part of the 500 Startups global community and network and are confident that with their support we will be able to rapidly expand the RedDoorz offering across a market that is ripe for transformation," said Amit Saberwal, CEO and co-founder of RedDoorz, run by Commeasure Solutions India Pvt Ltd.
RedDoorz was started by former MakeMyTrip executives Saberwal and Kunwar Asheesh Saxena last year. It had raised funding from Jungle Ventures in September.
RedDoorz's parent Commeasure provides a plug and play solution to hotels, resorts, bed and breakfast (B&B) setups and service apartments across the Asia-Pacific region including India.
RedDoorz launched in Indonesia three months ago and has already signed on 200-plus budget hotels as customers. With the new funding from 500 Startups, RedDoorz will intensify its outreach in Indonesia, even as it introduces its service offerings in other tourist and business hubs across South East Asia including Thailand, Singapore and Kuala Lumpur. The South East Asia travel market is estimated at $60.6 billion.
"The hotel industry globally is going through a lot of changes and we're glad to be working with RedDoorz to lead part of this change in a market like Indonesia," said Khailee Ng, managing partner, 500 Startups.
Jungle Ventures is a Singapore-based venture firm that invests and helps build tech category leaders in Asia.
500 Startups, a Silicon Valley-based global venture capital seed fund and startup accelerator, manages $200 million in assets and has invested in 1300-plus technology startups in more than 50 countries. In South East Asia they have invested in over 100 companies, including iMoney, GrabTaxi, Bukalapak, and now RedDoorz.
In India, 500 Startups has been an active seed investor. Most recently, it invested in Wishup, a chat-based concierge services startup; and it also led a $100,000 funding round in learning disorder tracker My Child App.
In November 2015, 500 Startups participated in a $2 million funding round at POPxo.com, a digital publication targeted at young women, along with IDG Ventures India and Kalaari Capital; led funding in Tripoto Travel Pvt Ltd, which owns and operates travel itinerary portal Tripoto.com; and invested $125,000 in LafaLafa, a mobile-first digital coupons and cashback aggregator in September.
The budget hotels aggregation market has been gaining traction in the country. OYO Rooms is clearly leading the space. Zo Rooms, which was struggling to raise fresh funds, is said to be inching closer to be acquired OYO Rooms. ZenRooms is also one of the players in the market, targeting a wider Asian market. Other players in this space are Deyor, ZiP Rooms, Wudstay, Vista Rooms and QiK Stay. Deyor Rooms last year raised $500,000 in angel funding from Redcliffe Capital's Dheeraj Jain and other unnamed investors.
---