How ixigo aims to break the travel-tech monetisation nut
As one of the most prominent travel-tech startups to launch after the front-line online travel agencies, Le Travenues Technology Pvt Ltd, which runs online travel search engine ixigo.com, has fast scaled up its user base. The firm, which has had a mixed bag in terms of generating revenues, improved its performance last financial year and its co-founder told Techcircle.in it is now looking at monetisation with a more serious lens.
"It was only in the last 12 months we started focusing on revenue growth and monetisation. Before that we were simply a product-focused company and were centered on setting up the right product on mobile," said Aloke Bajpai, co-founder and CEO of ixigo.
The Delhi-based company saw its operational revenue double last fiscal year, making up for two straight years of decline (see graph), and also contained its losses. Total income last year was higher at Rs 4.4 crore due to interest income from money in the bank and sale of mutual fund investments.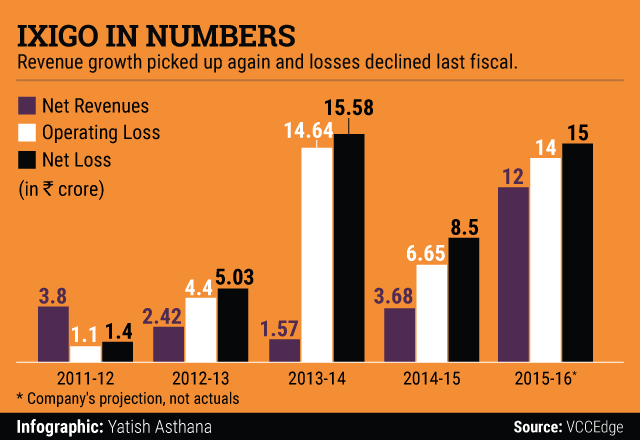 The company also concurrently saw usage shoot up with web traffic doubling to 40 million in FY15. It generated around 70 per cent of its traffic on the app.
The firm had started hiring a pan-India sales team a year ago to tap into small and mid-size travel businesses and hotels. In particular, it roped in several international tourism promotion boards, banks and airlines, among others, as clients.
Bajpai didn't comment on the financials and the usage stats but said the firm implemented a slew of changes both in advertising and lead generation. It has reworked the meta-search model to deliver more revenue and has reached out to a wider base of clients.
"We have signed five new OTAs in the last one year and also renegotiated the deals with the airlines and OTA partners. In hotels, we have tied up with Oyo Rooms and other branded budget hotel aggregators and are also monetising from independent hotels through a marketplace model called Super Value," he said. The marketplace model now delivers 10 per cent of the total revenue, he added.
Last April, the company launched a cabs meta-search app, which has begun to earn revenue. Earlier next month, ixigo will launch an in-app booking option that will allow users to book on ixigo itself using a third-party powered app.
Bajpai said that, to sell the ads inventory tactically, ixigo is using data to enhance advertisers' outreach.
"Since we have the data on who is going where and which mode of transport they are using, so we are able to target advertisers' outreach in a much better way on mobile and on web applications. Thus, we are commanding a premium rate," he said.
Bajpai, who co-founded ixigo with Rajnish Kumar in 2007, stated that the firm is also trying to widen its customer base and that an investment by handset maker Micromax into the firm last year was a step in that direction.
"Ixigo will be deeply embedded in Micromax devices as a core travel and transportation service area. By the end of this year we expect to be in 3-4 million devices," he said. Bajpai claims to have about 6 million monthly active users, a number that has grown four times since last year.
With all this in place, the company hopes to see net revenue catapult to about $10 million (Rs 68 crore) for the year ending March 31, 2017.
If it manages to convert its user base into money, it would throw a much-needed bright light in the travel-tech space that has seen some consolidation in the past year.
Ixigo is backed by early-stage growth investor SAIF Partners, which owns a majority stake, and its portfolio firm MakeMyTrip. The company has evolved from being a meta-search engine for travel to a mobile travel marketplace, where a customer can find travel information, deals on hotels, real-time fares and availability, book cabs, and can review from about 150 websites and apps. Some global peer group firms include names like Kayak and Skyscanner.
Comment(s)