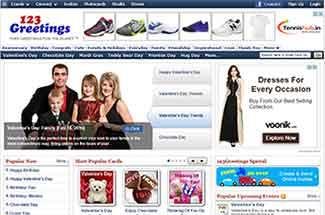 IntraSoft Technologies Ltd, which owns the e-greeting cards site 123greetings.com, has raised around Rs 34.5 crore (about $5.06 million) by selling treasury stock.
The shares were sold by Intrasoft Beneficiary Trust, whose sole beneficiary is the company, through bulk deals on Monday.
It sold 1.2 million shares at Rs 288 a share to a clutch of investors namely Parth Infin Brokers Pvt Ltd, Ambika Fincap Consultants Pvt Ltd, Washington University-Chanakya Capital Partners, University of Notre Dame du Lac and Massachusetts Institute of Technology II.
The company plans to use the entire net proceeds from this transaction to expand its e-commerce business, managing director Arvind Kajaria said.
Intrasoft Beneficiary Trust was set up in 2007 to hold shares solely for the company's benefit. The trust doesn't hold any shares of the company now.
In July, it had raised Rs 32 crore (about $5.4 million then) by selling a third of its treasury stock through bulk deals to a clutch of small brokerages and private investment firms from Kolkata and Mumbai.
Intrasoft generates revenue primarily from online advertising and online retail sales. It owns e-commerce retailer 123Stores.com and 123Greetings.com.
The company is backed by Intel Capital, which had invested in the firm in 2008 and currently owns a 10.42 per cent stake.
Intel Capital recently part-exited IntraSoft by selling a 1.6 per cent stake. It clocked around four times returns in rupee terms and around 2.6 times in dollar terms, arguably the best returns from its portfolio in the country to date. It pocketed around Rs 12 crore in the part-exit and its remaining stake is now valued at Rs 48.42 crore.
---