Twitter monthly user base didn't budge from 320M but Q4 revenue up 48%
Microblogging site Twitter Inc's user base showed no sign of growth in the fourth quarter of 2015 with the total average monthly active users (MAUs) at the Q3 figure of 320 million, raising concerns about its ability to attract new users despite ushering in new features to make it more engaging.
Mobile MAUs represented approximately 80 per cent of the total monthly active user base.
Twitter counts the launch of live video tool Periscope, adding native video capabilities to its core user platform, expanding direct messaging feature for up to 50 people, unveiling its news curation feature—moments—in the US, the UK and Brazil, striking a new agreement with Google for search integration on both mobile and desktop queries among the major achievements in the year 2015.
The Jack Dorsey-led site, however, did see its Q4 revenue rise to $ 710 million, up 48 per cent over the same year ago period and up 24.78 per cent over the previous quarter ($ 569 million), according to its Q4 2015 financial statement.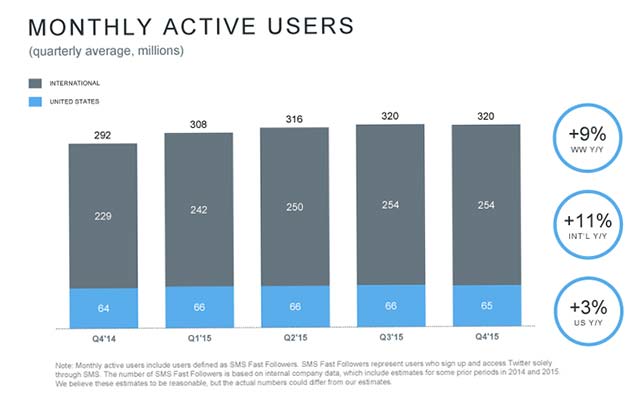 Out of this, revenue from advertising accounted for 90 per cent of the total revenue at $ 641 million. Data licensing and other revenue totaled $70 million. About 86 per cent of the total advertising revenue came from mobile advertising.
Likewise, Twitter's Q4 2015 revenue from the US market accounted for 64 per cent of the total at $410 million while its international revenue accounted for the remaining 36 per cent at $230 million.
Total revenue for the year stood at $2.2 billion, which was a 58 per cent rise over the same year ago period. Total US revenue for the year stood at $1.5 billion while the total international revenue stood at $870 million.
Its Q4 net loss shrank to $90.2 million from $125.3 million in the same year ago period.
For 2016, Twitter has listed its priorities. These are: enhancing its core user platform and service, investing in its live streaming video service, focus on helping the creators and influencers in the Twitter ecosystem build and connect with their fans and audience by giving them better tools, making its platform more safe for users and investing more resources on the developers in its ecosystem. The social media site is hoping these will be able to bring new users.
Comment(s)