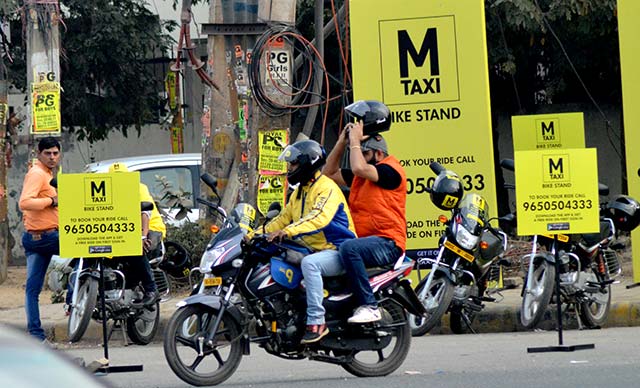 After cab hailing apps, it is the turn of bike taxis to disrupt the local transport system in India's big cities. The last two months have seen the emergence of a new segment in the crowded intra-city transport space – bike taxis. Baxi, M-Taxi, Bikxie, N.O.W and Hey Bob are names that have become synonymous with a speedy ride in sprawling Gurgaon or Noida or a quick ride down the congested roads of Bangalore.
The pain point these startups are attempting to address is last-mile connectivity. Today, the customer has to choose either an auto, a rickshaw or a taxi for last-mile connectivity. The other option is driving your own car or bike. Shared transport still remains expensive and is also inefficient, as shared services do not take customers to their final destination.
"There's a large gap in the transport industry. With rising population, the public transport system is unable to fulfill the needs of the consumer, which also includes last mile connectivity," says Arunabh Madhur, founder and CEO of M-Taxi, from Ace Fenders Travel Pvt Ltd which runs its services in Gurgaon.
A viable option
Bike taxis, therefore, are seen as a viable option, especially along around metro rail lines as commuters clock about 1 crore trips on the metro daily. The service is an economical option in satellite towns that have metro and intra-city train connectivity.
The two-wheeler base, which includes privately owned vehicles as well as those owned by fleet operators, is 120 million-plus in India, says Pankaj Karna, MD, Maple Capital Advisors. Maple is one of the backers of N.O.W. Karna says that the cost of ownership for a bike is lower than that for a car, thus making bike taxis a scalable proposition, he says. "Unit economics is interesting because when a bike is used, it's 100 per cent occupancy," he adds.
Tariffs and trade
The fare for a bike taxi is determined on the basis of the prevalent auto rickshaw fare in that city. According to Ashutosh Johri, founder of Gurgaon-based Baxi, the bike taxi tariff must be equal or less than the minimum auto fare. "If the minimum auto fare is Rs 40 and your average ticket size is Rs 40, then you've hit the perfect sweet spot. If the minimum auto fare is Rs 40 and your average is Rs 35 you can still increase your price by Rs 1," he says.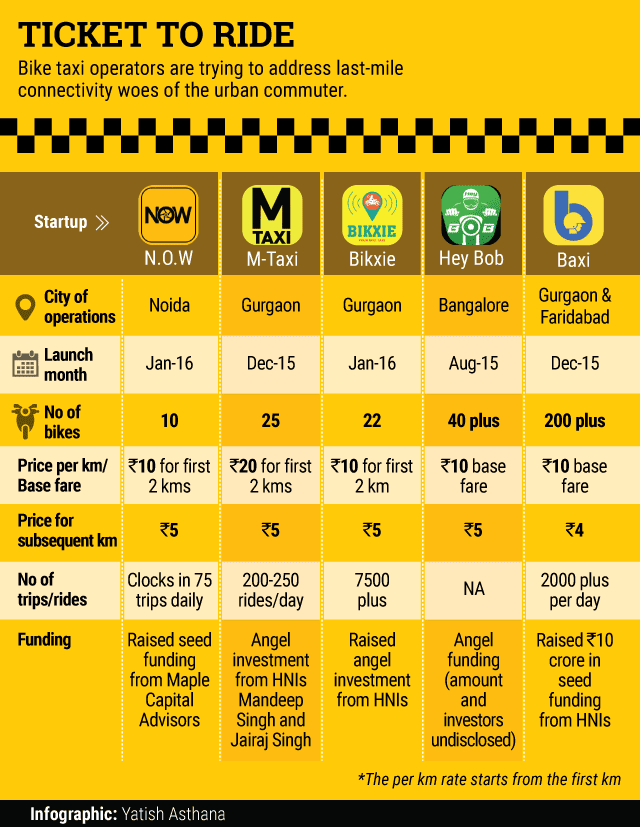 Customers can book a ride via the operators' respective mobile apps, or even call up a designated number, as is the case with M-Taxi.
Johri says Baxi, operated by 74 BC Technologies Pvt Ltd, is seeing average trip of 3.5 kilometres and average ticket price of Rs 37.
"We haven't priced ourselves differently. We don't want to start at a low fare and then raise our rates. We have done 20,000-plus trips in all," adds Johri.
The aggregator model rules the roost though some are experimenting with an inventory model. Mohit Sharma, founder of Bikxie, run by Madhatter Voyage Pvt Ltd, says his firm had initially purchased bikes, but it is now gradually shifting to the marketplace model. Baxi, Hey Bob and M-Taxi work on the aggregator model. Most of the operators keep a part of the earnings as their commission. M-Taxi, for instance, follows a pay per ride model, with it keeping a certain percentage from each ride. None of the operators were ready to divulge the exact rate of commission.
"The best model is asset light which is not building your own inventory but using existing inventory. To remain asset light, operators should leverage existing two-wheelers in the market," says Vikram Upadhyaya, angel investor and founder of Green House Ventures (GHV) Accelerator.
The angel investor said he is reviewing startups in this space. His focus is not on customer acquisition but on customer stickiness, "We still have to find proof of concept, in terms of whether customers come back with repeat orders," he explained.
He adds that the wear and tear of two-wheelers versus four-wheelers is much higher as is the cost of maintenance. "If an operator goes with a lower segment vehicle, the quality of service goes drastically down and if they go with higher segment vehicles, then the unit economics is questionable," he said.
Not a new concept
Today, bike taxis are utilised in the tourism and logistics sectors, as well as for local commuting. Goa was the first state to set up the service. The Goa Motorcycle Taxi Riders Association (GMTRA) was established in 1981 to operate bike taxi services in the state. Drivers, referred to as pilots, are required to obtain permits from the government to begin operations.
However, today these motorcycle taxis are dying out with people preferring to rent bikes, says Johri. "But some of them still run as taxis and they make a decent amount of money," he adds.
Upadhyaya also points out a valid issue. "The cost of an auto versus that of a bike is not very different, but the comfort of travelling in a three-wheeler is better than a two-wheeler, from the consumer perspective," he says.
Bike taxis are common in developing countries such as Nigeria, Cameroon, Indonesia, Thailand, Cambodia, China, Vietnam, the Philippines and Brazil.
"Motorcycle taxis are very popular around the world. The only reason it wasn't available in India was because of regulation," says Johri.
Regulatory hurdles
Regulation is a big hurdle in the plans of these startups. The relaxation of rules in Haryana has seen intense competition among players in the segment. While Baxi already has established operations in Faridabad, another satellite city in Haryana bordering Delhi, M-Taxi is looking to enter the city after consolidating itself in Gurgaon.
While Haryana has clear-cut regulations in place, the picture is still rather hazy for cities such as Bangalore and Mumbai.
In June 2015, HeyTaxi!, a two-wheeler taxi service, launched operations in Mumbai. However, the RTO issued a statement in the press, ordering the service to shut down as the Motor Vehicles Act in Maharashtra does not allow companies to offer such services. Despite this announcement, Hey Taxi! has still been able to continue operations. Instead of taxi services, it now offers a ridesharing service.
"It was a statement made by the RTO in the press. Nothing came to us officially. Obviously the concern is these are private numbered bikes and we can't operate them as cabs," explained Manoj Maheshwari, founder of Hey Taxi! He adds that he has approached the transport department to obtain commercial registration to operate bikes as taxis, but was declined because of a lack of a proper law.
"We haven't had any communication from the transport department telling us we've been banned. When we approached them for regulation, we were told that there is no place in the law for motorcycle taxi as yet. That would require a contract carriage permit which is similar what is given to autos," he said.
Hey Taxi! is present in Mumbai and Bangalore and offers two types of services – a courier service to ferry parcels and documents and a carpooling passenger service. "The government can overlook Tripda and BlaBlaCar, which are on a similar model, the only difference is that they are inter-city and we are intra city," explained Maheshwari.
Bangalore he adds is more forthcoming on the regulatory front. The transport department has given its approval, all that is pending is the clearance from the ministry.
Bangalore-based Hey Bob, too, does not have regulatory clearance but is able to operate its services. The company's founder Vishal Kumar says his firm is working closely with the state government for setting up a policy framework. Helion Technologies Pvt Ltd, which runs Hey Bob, has applied for a licence also, he said.
Upadhyaya of Green House Ventures says that the bike taxi segment in India is a little ahead of its time, particularly for local commuting. Policies need to be structured in such a manner that they cover all stakeholders involved, the customer, investor and operator. "If we look at the four-wheeler taxi industry, when Uber and Ola came in, policies were relooked after the (Uber rape) incident happened, and taxi aggregator services were flourishing prior to the incident."
According to him, startups in this space must adopt technology to address not only last-mile connectivity but also customer safety. Through the use of pre-emptive and predictive analytics, operators can track the behaviour and performance of each driver and vehicle, he says.
Expansion of fleet could be another hurdle since people do not buy bikes to offer bike taxi services. Ensuring a viable marketplace model could be difficult in such a case.
The startups are aware of the obstacles. "We realised even if we do get centralised permission for this, we still have to go to every state. Every state has certain special powers in the Motor Vehicles Act which allows them to make modifications, which Goa had already made in 1978 or around that time," says Johri.
The roadmap
With funds in place, these startups are looking at expanding their operations. N.O.W, run by TapTap Meals Pvt Ltd, which has launched its services in Noida, has permits to operate in nine cities, its co-founder and CEO Vivek Pandey had told TechCircle.in earlier. In order to persuade women commuters to use their services, Bikxie has already launched a service with women drivers. M-Taxi too plans the same. "Today we have 12-15 per cent of women using our services across metro stations. We are also looking to tie up with NGOs, through whom we will train women drivers," said Madhur of M-Taxi.
If these startups are able to make a success of their business, many more are expected to come up. For the millions of commuters in India's tier 2 and 3 cities who have to travel by ramshackle three-wheelers, bike taxis could be a much more convenient option. And then there are international bike taxi services such as Singapore-based cab-hailing GrabBikes, and Indonesia's Go-Jek waiting in the wings.
---