Gym discovery site Gympik gets pre-Series A funding from RoundGlass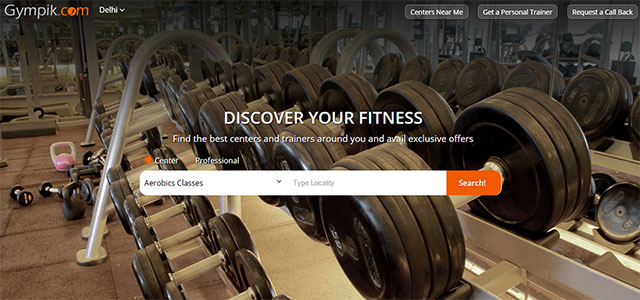 Gympik.com, an online marketplace for discovering fitness centres and gyms, has raised an undisclosed amount in pre-Series A funding from RoundGlass Partners.
"The funding will be used to help us meet growing demand (for Gympik's services) and expand into new geographies,"said Amaresh Ojha, founder and CEO, Gympik.

The startup will also use the money raised to hire technical talent.
Run by Bangalore-based Gympik Health Solutions Pvt Ltd, the online venture curates 10,000 fitness centres and 6,000 trainers from 20 cities on its platform. It also offers a cloud-based software to track performance and schedules at fitness centres.
The company was founded in December 2012 by Ojha, an IIM Bangalore alumnus, who has previously worked at Sun Microsystems, CISCO and Intuit; and Ajay Pandey (CEO), a management graduate who was earlier working at IBM.

Gympik had raised $135,000 (about Rs 86 lakh) in seed funding last year.
Several digital health and fitness related ventures have attracted investments in the recent past. GOQii Inc, a wearable fitness band maker, raised $13.4 million (Rs 90 crore) in Series A funding led by global venture capital firm New Enterprise Associates (NEA) recently. Personal fitness coach app Orobind had raised series A funding few months ago. In June, health and fitness app HealthifyMe secured an undisclosed amount in funding from a group of individual investors. Other startups such as FeetApart and FitCircle, in the social fitness space, have also received investment lately.
RoundGlass Partners is a Seattle-based venture firm that focuses on healthcare startups. It recently invested in Gurgaon-based 911 India Healthcare Pvt Ltd, which owns doctor networking app Curofy, and Manna Healthcare Pvt Ltd, which runs weight loss coaching and fitness app Obino.

Last August, RoundGlass invested $1 million in Uber Health Tech Pvt Ltd, a startup that builds social wellness apps for corporate staffers under the brand Zoojoo.be.
---