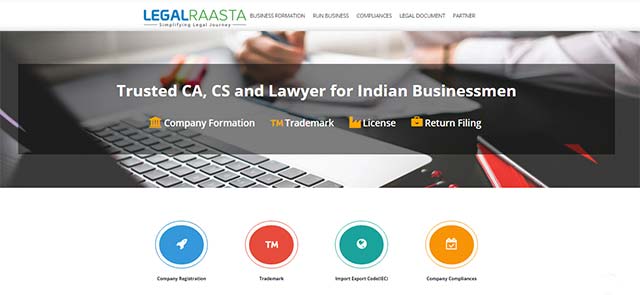 Legal Raasta Technologies Pvt Ltd, which provides legal services to entrepreneurs, SMEs and professionals over its online platform legalraasta.com, has raised $1 million (around Rs 6.7 crore) in angel funding from two high net-worth individuals, Pravin Khandelwal and Yatin Kumar Jain.
Jain is the owner of fashion brand Amyra by Odhni while Khandelwal is the chairman of a leading cleaning solutions manufacturing company.
The firm will use the funds to expand its team from the current 25-plus to more than 70 and set up full service offices in metro cities. It also intends to improve its technology platform and add more legal documentation services.
Legal Raasta plans to develop a fully integrated cloud-enabled platform for legal and financial services. Among those in the pipeline are LegalRaahi.com – a marketplace for chartered accounts, company secretaries and lawyers, and TaxRaahi.com – an online return filing portal for ITR and TDS returns.
Legal Raasta offers over 50 kinds of services including facilitating company incorporation, FSSAI food licence registration, service tax and trademark registration and import export code registration. It also provides legal advice to startups and SMEs and helps them comply with legal procedures and documentation. "LegalRaasta.com helps customers with registrations, licences and tax filing done via simple and trouble free DIY forms. We charge the customer a nominal fee for processing their work and submission of documents with government departments," said the company in an email interaction with Techcircle.in. Customers make payment online and get status updates via the CRM system.
To enable this, the firm has registered itself as an e-filing intermediary with the government and has also partnered with agencies such as e-Mudra that issues digital signature certificates, and the Registrar of Companies, explained Himanshu Jain, co-founder, Legal Raasta.
Legal Raasta earns its revenue from the fees paid by customers. For instance, a customer can obtain import export codes for Rs 2,999 onwards, while the cost of registering a private limited company is Rs 13,999.
Legal Raasta has also partnered with Intuit, a provider of business and financial management solutions for SMEs, for its accounting software.
Legal Raasta claims it has more than 2200 customers, getting over 11,000 enquiries daily. It claims that its revenues are growing at the rate of 40 per cent per month.
The legal services and compliance market is estimated at over Rs 20,000 crore and is growing at the rate of 25 per cent per annum, says Legal Raasta. Of this, less than 3 per cent has been penetrated by existing online players. The company intends to target 2-4 per cent of this market over the next three years. It competes with NovoJuris and Vakilsearch for many of its services.
Legal Raasta was started in June 2015 by Himanshu Jain, an ISB Hyderabad alumnus and former McKinsey consultant, and Pulkit Jain, a chartered accountant, company secretary and former partner at a leading CA firm.
---