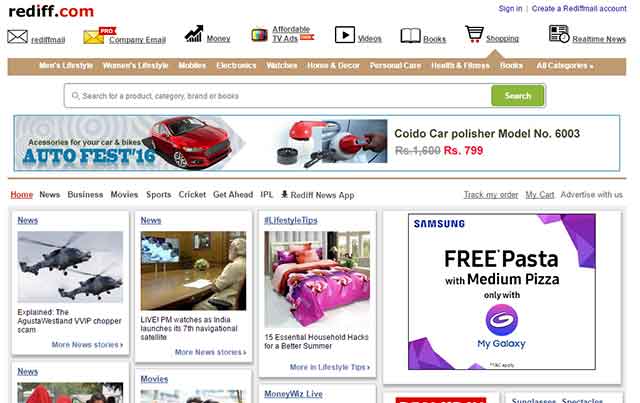 Indian internet firm Rediff.com India Ltd on Wednesday said it has filed an application with the US Securities And Exchange Commission (SEC) to voluntarily withdraw its American Depositary Shares (ADSs) from listing on the NASDAQ.
The firm that survived the dot-com bust, but barely so, was struggling to grow the business even as a bevy of new-generation Indian internet firms started operations and became many times larger. Rediff has been in losses for years.
Founded in 1996, Rediff is an online provider of news, information, communication, entertainment and shopping services to Indians worldwide. Headquartered in Mumbai, with offices in Delhi and New York, Rediff said its ADSs are expected to continue trading on the OTC Pink Marketplace following delisting and deregistration from NASDAQ.
The digital content and e-commerce marketplace said it decided to withdraw from listing due to the cost of filing periodic reports with the SEC and meeting other applicable regulatory requirements.
"In the light of its current financial position, it is prohibitive for Rediff at this time to seek to regain compliance with the NASDAQ continued listing requirements, and therefore has determined to voluntarily delist from NASDAQ," it said in a statement.
Rediff added that it does not intend to arrange for a listing or registration on another national securities exchange.
On February 3, in a communication sent to Rediff by NASDAQ, it was informed that its ADSs were subject to delisting from the Nasdaq Capital Market.
This letter pointed out that for the previous 30 consecutive business days, the bid price for its ADSs had closed below the minimum $1 per ADS requirement for continued listing on the NASDAQ. Rediff had a period of 180 calendar days until August 1, 2016 to regain compliance. If at any time before this date the bid price of the company's ADSs closed at $1 per ADS or more for a minimum of 10 consecutive business days, it would have been back in compliance. If it did not regain compliance by August 1, 2016, the company could have been eligible for an additional 180 calendar days for achieving compliance provided it met other listing requirements.
"The decision by Rediff's board of directors to deregister and leave the Nasdaq Capital Market was made after careful consideration of the advantages and disadvantages of being a SEC reporting company, including the high costs and demands on management's time arising from compliance with the many SEC and Sarbanes-Oxley requirements. We are constantly looking for ways to reduce costs and increase shareholder value as we continue to focus our efforts on growing the core business," said Ajit Balakrishnan, CEO, Rediff.
For the third quarter ended December 31, 2015, the firm's revenues declined 8 per cent over the year-ago period to $3.63 million, largely due to the depreciation of Indian currency. Its operating expenses declined, shrinking the operating loss to $1.94 million; simultaneously, the cash and cash equivalents too were down by one-third to $4.9 million.
MakeMyTrip and Sify are two others NASDAQ listed Indian internet firms.
---